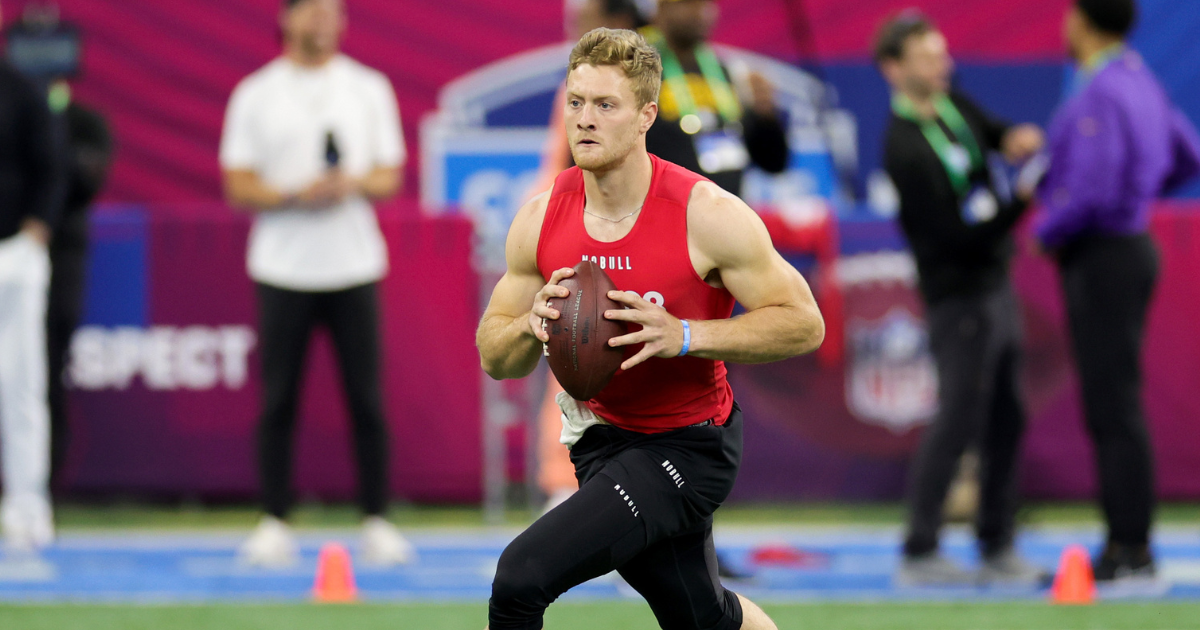 When Will Levis throws a football, people stop what they're doing to watch, even the best wide receivers in the NFL Draft class.
"It comes out live," said the NFL Network's Daniel Jeremiah after Levis unleashed his first pass at Saturday's NFL Combine workout.
"This guy Will Levis, there was in fact a noticeable buzz in the building when he stepped up there and everyone was waiting to see him just air it out," remarked Rich Eisen.
Jamie Erdahl was standing next to the second group of wide receivers as they were preparing for the vertical jump. "They all just turned around to watch Will Levis throw those three balls. They could hear the ball coming out of his hand. They wanted to see what the target looked like. When I say the body language looked impressed, that's an accurate observation, if you will."
The quarterbacks were tasked to complete a variety of throws in the on-field portion of the NFL Combine. When it was time to throw deep balls, the crowd got quiet in anticipation, only to share their disappointment when Tennessee's Jalin Hyatt dropped the pass. Don't worry, he still showed off his cannon with a 60-yard pass through the air.

He also was clocked throwing a football 59 mph. Is that good? Good enough to break a wide receiver's finger, according to Jeremiah.

Kurt Warner Gives Stamp of Approval
Super Bowl Champion and NFL Hall of Fame quarterback Kurt Warner liked what he saw from Will Levis. Warner saw the potential on tape and Levis backed it up in Indy.
"He's got a big arm. He looks the part, big strong, man. He's got that ability," said Warner. "There was a little bit of inconsistency with his accuracy this year. I know a lot of people have questions because his numbers weren't eye-popping numbers, but physically, he's eye-popping."
Warner used Matthew Stafford as his NFL player comparison. "I've liked what I've seen to this point from Will Levis. We're talking about a lot of different things, but I feel like he's been under control. There's been touch on the football. That's one thing you wonder with guys with big arms, are they going to come out here and throw everything 100 miles an hour? I think he's done a nice job having a little touch, having a little air right there just laying it outside to the boundary, so really like what I've seen from him so far in the Combine."

Will Levis Wows from Afar
During the weigh-ins Levis was officially measured at 6-foot-4, 229 pounds with 32-inch arms and 10 5/8″ hands. He also completed the broad jump (10-feet 4-inches) and vertical jump (34 inches). ESPN's Matt Miller marveled at the quarterback's size.
The Houston Texans need a quarterback. One of their current wide receivers liked what he saw from Will Levis.
Will Levis Exit Interview
The former Kentucky quarterback's arm is what everyone will be talking about, but Will was just happy to have his feet back under him. Under duress throughout his 2022 Kentucky campaign, his injured foot and shoulder are finally healthy. He said afterward it felt good to run around and roll out of the pocket.
"Because I'm not running out here. I'm not doing a 40 (yard dash) or 5-10-5 (shuttle). Coming off of the foot (injury) that I was dealing with this year, I just wanted to show I was able to get out of the pocket and be able to set up and make those plays on the run and I thought I did a good job in the individual drills."
Accuracy has been the biggest knock on Levis throughout the pre-draft process. He's trying to improve it by studying Joe Burrow this offseason.
"I think I'm pretty accurate, but at times, when I do miss, it has not necessarily having anything to do with upper body," Levis said. "It's just the movement leading up to that throw. Being more in tune with my lower body, engaging the right muscles, pushing through the right areas of the ground and my body to just move as efficiently as possible. And I think Joe does as good a job as anybody as that. I've been watching a lot of his film. It's cool, even though he's necessarily not the fastest guy, he's able to move so efficiently that he's able to make it work at a really high level."

The post Will Levis Wows at NFL Combine, "That ball jumps" appeared first on On3.
This content was originally published here.