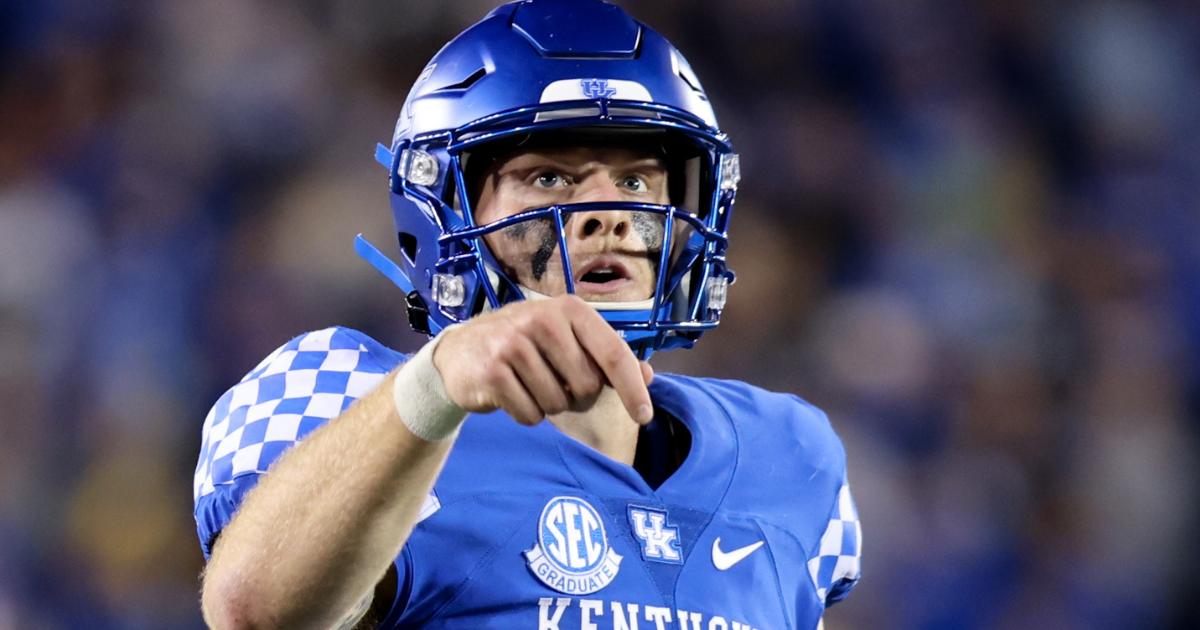 Yesterday, Will Levis made it official that he is opting out of Kentucky's bowl game and declaring for the 2023 NFL Draft. Despite what some might deem a shaky senior season, Levis' stock remains high. This morning, Mel Kiper updated his draft prospect rankings and Levis is No. 3, up one spot from the previous version. He is the first quarterback listed, jumping Alabama signal-caller Bryce Young in the rankings. The only players ahead of Levis are Georgia defensive tackle Jalen Carter and Alabama defensive end Will Anderson Jr.
In two years as the Wildcats' starter, Levis completed 418-of-636 passes (65.7%) for 5,232 yards, the sixth-most passing yards in UK history. He threw 43 touchdown passes and 23 interceptions. Levis' numbers were down this season for a number of reasons, but Kiper is still a firm believer due to his size, arm strength, and familiarity with pro-style offenses.
Levis' stats aren't going to blow you away, but he doesn't have a great supporting cast of playmakers around him. He has 19 touchdown passes and 10 interceptions this season, and his 60.3 QBR ranks 61st in the country. But when I went through all his starts at Kentucky earlier this year, I was really impressed with his game. Levis has a rocket launcher for an arm and makes some "wow" throws. That has gotten the Penn State transfer into trouble at times, but it's clear watching him that he believes he can fit the ball into any window. My comparison is Matthew Stafford.

Levis plays in a pro-style offense at Kentucky, and he's not going to need much time to adjust to the NFL. He can maneuver the pocket and throw on the run. Many of his turnovers came when he tried to use his arm to force throws, and he's going to be punished for mistakes at the next level. Levis is the real deal, though, and there are lots of fans of him in the NFL.
The only other Kentucky Wildcat to make Kiper's rankings is Carrington Valentine. The junior is 14th in the cornerbacks rankings.
Subscribe to the KSR YouTube Channel for press conferences, interviews, original shows, fan features, and exclusive content.
ESPN on what the NFL likes about Will Levis
In an NFL Draft roundtable, ESPN's Matt Miller answered a question a lot of people outside Lexington may be asking: why do NFL scouts like Will Levis so much?
"NFL evaluators love the traits here. After all, toolsy quarterbacks such as Patrick Mahomes, Josh Allen and Justin Herbert are among the elites in the game, and every team wants to find the next future star. Levis has arm talent that puts him in that group and the physical traits to run around — or over — defenders.
"Scouts I've talked to love Levis' traits and believe his pre-draft interviews will convince teams that he's a future franchise quarterback, despite the decision-making issues that must improve."
Todd McShay said that of the three quarterbacks at the top — Levis, Young, and C.J. Stroud, Levis has the strongest arm.
"I have Young as the QB1 right now, thanks to excellent poise under duress and the arm flexibility to make off-platform throws. His size (6-foot, 194 pounds) and durability might be issues for some teams, but I think Young is a special prospect who is capable of transforming a franchise.
"Stroud has fast eyes and excellent touch, timing and placement to all three levels of the field. But his efficiency dips a bit when pressured, and he's at his best working within the confines of a structured offense. Levis has the strongest arm and the sturdiest build (6-foot-3, 232 pounds) of these three quarterbacks, though he needs to improve his pocket presence and turnover avoidance (10 interceptions)."
Even though Levis will not play in the Music City Bowl, he will still travel to Nashville to be with the team instead of immediately going all-in on his NFL Draft prep.
"He'll be right there with us coaching. He's not going to just take off and go to California, Arizona or Florida to train," Mark Stoops said on Monday. "He wants to be with his team and he wants to help, so tells you a lot about who he is."
In case you missed it last night, Nick Roush took a look back at Levis' legacy at Kentucky. He will be missed.
The post Will Levis in Top 3 of Mel Kiper's latest NFL Draft Prospect Rankings appeared first on On3.
This content was originally published here.