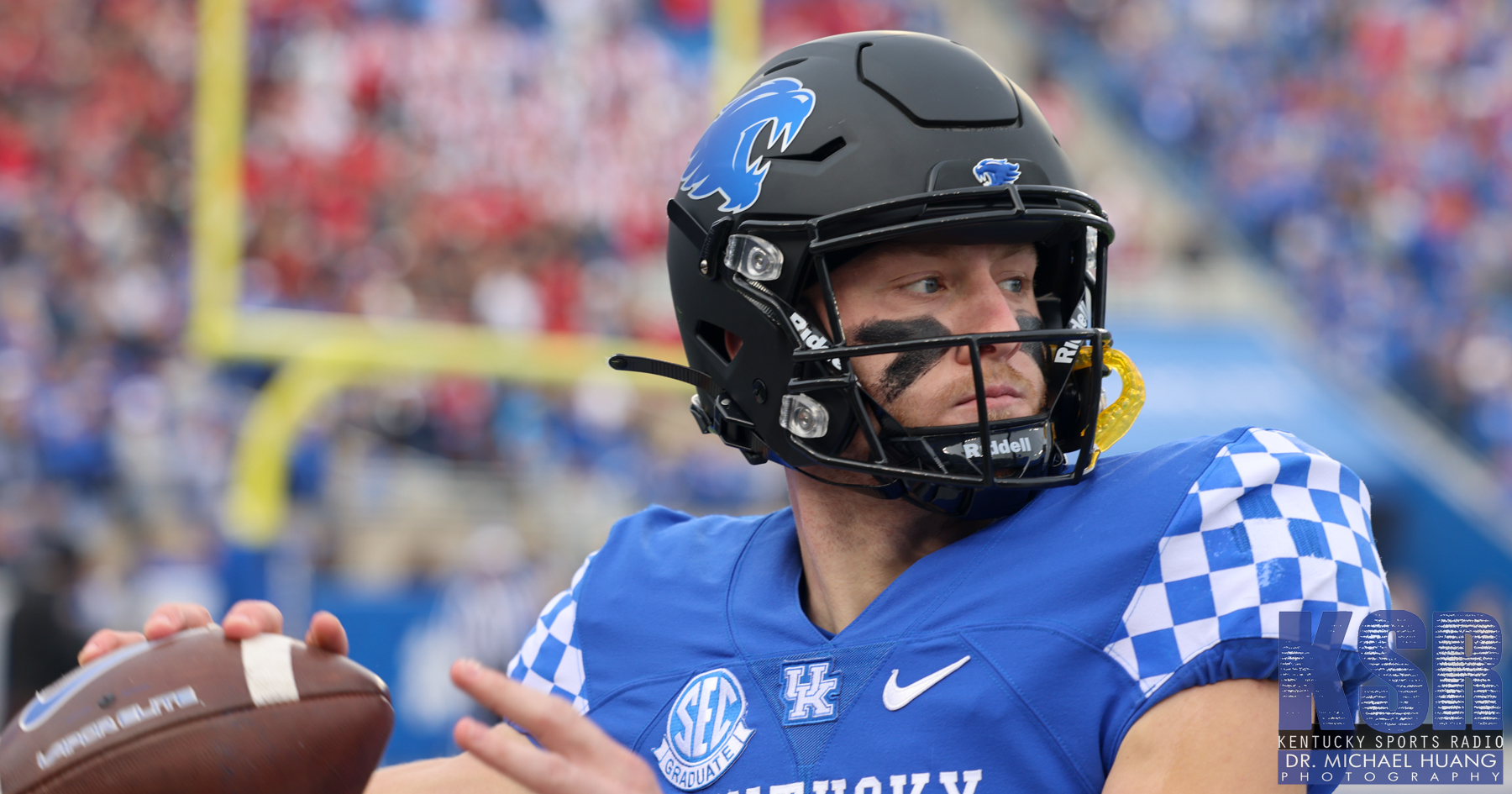 Will Levis has played his final game in a Kentucky uniform. The Wildcats' quarterback announced he will not play in the Music City Bowl vs. Iowa as he prepares for the NFL Draft.
The news came in a social media post from Levis entitled, "Thank you, #BBN":
"With most decisions in my life, I often think of this motivational quote: 'Every great move forward in your life begins with a leap of faith, a step into the unknown.' Whatever the risk, with that leap of faith, I also remind myself that you only control your attitude and effort from that point forward. All other factors and people are out of your control. But, it helps your situation when those people have your back.
"If I have one thing to hold in my heard from my time here in Lexington, it's that Kentucky has my back and that everything ahead of me wouldn't be possible without the support and encouragement I received along the way.
"As a Wildcat, I have met lifelong friends, learned from incredible coaches, and built connections with valuable mentors that will guide me through my journey. Because of Kentucky, I found belief and confidence in myself that had not been reached beforehand, and, most importantly, we won some incredibly memorable ball gams in my college career. It has been a great move forward.
"With that in mind, after much thought, I have decided to forego my final college game, look to that next step, and declare for the 2023 NFL Draft.
"To my teammates, UK staff members, Wildcat community, and BBN, I cannot thank you enough. I'll forever be indebted to all those who I had the pleasure to cross paths with here, and my immense love for you will remain strong in my heart, forever."

Mark Stoops' Kentucky football program has largely been immune to bowl game opt-outs since Josh Allen chose to play in the 2019 Citrus Bowl. Levis made this decision under much different circumstances.
For most of the 2022 season the Kentucky quarterback played through a variety of injuries. He suffered a foot injury at Ole Miss and was able to finish the game, but could not play a week later against South Carolina. He also dealt with a bum shoulder, among other nagging ailments.
Will Levis is a projected first-round NFL Draft pick. In Mel Kiper's most recent Big Board, the ESPN analyst ranked Levis as the No. 4 prospect overall and second-best quarterback, trailing only Ohio State's C.J. Stroud.
"When I went through his first 16 starts at Kentucky, I was really impressed with his game," Kiper wrote in early November. "Levis has a rocket launcher for an arm and makes some "wow" throws. That has gotten the Penn State transfer into trouble at times, but it's clear watching him that he believes he can fit the ball into any window. My comparison is Matthew Stafford."
By foregoing Kentucky's bowl game, Levis will have two months to get healthy before playing in the Senior Bowl, the top pre-draft showcase for NFL scouts.
Will Levis Thanks BBN for Two Years in Lexington
Levis began his career at Penn State before transferring to Kentucky ahead of the 2021 season. In two years as the Wildcats' starter he completed 418-of-636 passes (65.7%) for 5,232 yards, the sixth-most passing yards in UK history. He threw 43 touchdown passes and 23 interceptions. Levis had a 17-7 record as the Wildcats' starter, including a 4-0 record against Louisville and Florida. He also orchestrated a game-winning fourth quarter to drive to carry the Cats to a 20-17 win over Iowa in the Citrus Bowl.
"The fans welcomed me with open arms and completely embraced me being the starting quarterback for the team," Levis said after the win over Louisville. "It's a huge position to assume to be a quarterback for an SEC team and I didn't know too much about the fanbase when I first got here, but I quickly realized how special and supportive our fans are. I think I'll always look back on this season and have a little bit of regret, feeling like we didn't get to where we wanted to, but I'll sure as heck think about this game (the win over Louisville) and feel a lot better about it."
He added, "I got a home here for the rest of my life. Thank you Kentucky, thank you Big Blue Nation for everything."
The post Will Levis Ends Kentucky Career, Skips Bowl Game to Prepare for NFL Draft appeared first on On3.
This content was originally published here.