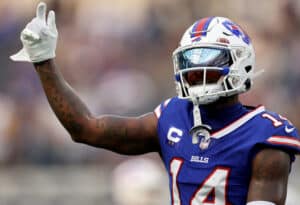 The Worksheet, a fantasy football overview by Rich Hribar, breaking down everything you need to know for the Week 2 Tennessee Titans at Buffalo Bills Monday Night Football game.

Tennessee
Rank
@
Buffalo
Rank
10
Spread
-10
19.75
Implied Total
29.75
20
17
Points/Gm
31
4
21
17
Points All./Gm
10
5
60
22
Plays/Gm
58
24
58
8
Opp. Plays/Gm
66
21
6
9
Off. Yards/Play
7.1
2
30
6.8
Def. Yards/Play
2
3.7
43.33%
10
Rush%
43.10%
11
56.67%
23
Pass%
56.90%
22
55.17%
30
Opp. Rush %
27.27%
3
44.83%
3
Opp. Pass %
72.73%
30
Buffalo converted a league-high 90% (9-of-10) of their third downs in Week 1.

The Bills averaged a league-high 17.4 yards per play with three touchdowns on third down in Week 1.

Josh Allen

had the highest completion percentage above expectation (+12.3%) in Week 1.

7.7% of the rushing attempts for the Titans resulted in a first down or touchdown, tied with the Raiders for the lowest rate in Week 1.

Ryan Tannehill

was 9-of-10 for 135 yards with two touchdowns on first down passes in Week 1 (a perfect 158.3 rating).

Tennessee ran the ball on 65.5% of their first down plays (fourth in the league) despite averaging 4.0 yards per carry on those runs (17th).
Trust = spike production for that player
Quarterback
Josh Allen (TRUST): Allen was an absolute demon in the season opener, just carving through the Super Bowl champs for 31.5 fantasy points. Allen was 26-of-31 for 297 yards with three touchdown passes to go along with 10 carries for 56 yards and a rushing score. The only blemish was throwing a pair of interceptions, but one was completely not his fault. 
Allen now has 14 games with 30-plus fantasy points since 2020, the most in the NFL over that span.
There was mild concern that the Bills would not be as aggressive on offense or would pull back Allen running with the transition to Ken Dorsey calling plays. Neither was the case. 
This week, he draws a Titans defense that was 31st in passing points allowed per attempt (0.74) in Week 1. 
When these teams met a year ago, Allen was the QB1 overall that week, throwing for 353 yards and three touchdown passes.
To continue reading this article
and gain access to The Worksheet and all of Rich's regular content, including positional rankings, and chats, click below to purchase our season-long Fantasy Package.
This content was originally published here.