SR's Fab 5 is a collection of reporting and analysis on the Bucs from yours truly, Pewter Report's Scott Reynolds. Here are four things that caught my attention this week, plus some random tidbits in my Buc Shots section at the end. Enjoy!
SR's Fab 5 is presented by Age Rejuvenation
"Tampa And Orlando's Premier Men's Health And Wellness Clinic"
It's time to feel healthy, young, sexy and alive – with Age Rejuvenation.
Age Rejuvenation is focused on anti-aging with the use of hormone, peptide, stem cell and weight loss therapies. The Age Rejuvenation commitment is helping patients lose weight, feel great and improve libido! Getting older is inevitable, but how you age is now in your control when you partner with Age Rejuvenation for your health and wellness goals.
The process is simple: 1. Schedule a free consultation and 2. Have a comprehensive lab panel unlike anything your PCP would ever require 3. Meet with an Age Rejuvenation medical provider for a customized anti-aging treatment based solely on you, your body, and your goals.
Don't accept the negative effects of aging any longer. Call now at
(813) 669-3383
and get
50% off your 1st month
when you mention Pewter Report or go to
AgeRejuvenation.com
now! Age Rejuvenation has
5 Florida locations
to serve you: Wesley Chapel, South Tampa, Westchase, Brandon and Winter Park.
Personal note from SR: I turned 50 this year and will begin my weight loss and anti-aging regimen with Age Rejuvenation. I'll keep you posted with my results and encourage you to get a FREE consultation today – AND SAVE $500 off your initial treatment by mentioning Pewter Report.

FAB 1. Brady's Return In 2023 Tops Bucs' Christmas Wish List
Is Bucs head coach Todd Bowles on Santa's nice list or naughty list this year? It's hard to tell with the Bucs mired at 6-8, yet still owning a one-game lead in the NFC South division.
The Bucs would love for Santa Claus to deliver enough victories to win the division – starting with a triumph in the desert against the Cardinals on Christmas night. But as quarterback Tom Brady has said before, wins have to be earned – not just given.
So, instead of asking the jolly ol' elf for the NFC South title – and the automatic playoff berth that comes with it – here's a look at the Bucs' Christmas wish list that includes some other presents Tampa Bay could really play with at the end of this year and into 2023.
Brady's Return In 2023
The Bucs only have one quarterback under contract on their roster in 2023 and that's unproven backup Kyle Trask. The team's former second-round pick in 2021 has yet to show any signs that he can handle the starting job, as he couldn't even beat out Blaine Gabbert for the backup role.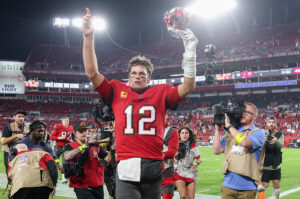 Bucs QB Tom Brady – Photo by: USA Today
The team is hopeful that Brady wants to play one more season at age 46. While he hasn't had nearly as prolific a season as he had from 2020-21 while throwing for 83 touchdowns in the regular season, Brady is still a Top 10 QB in the league, passing for 20 touchdowns with just seven interceptions. He's clearly the best option in Tampa Bay next year.
Bowles has seen rookie quarterbacks and poor QB play in general sink his previous head coaching gig in New York. Rookie QBs are usually coach killers, and he would rather have a veteran under center in 2023 – preferably Brady. If Brady wants to keep playing, he would likely do so in Tampa Bay, where he has strong allies in Bucs owner Joel Glazer and general manager Jason Licht, in addition to Bowles, a coach Brady enjoys playing for, and his Bucs teammates, who he has established a rapport with.
With Lamar Jackson likely to be franchise tagged by Baltimore if he doesn't re-sign, the free agency market looks bleak at the quarterback position outside of Brady. Seattle will likely franchise tag Pro Bowl quarterback Geno Smith, leaving the Bucs to chose between Jimmy Garoppolo, Jacoby Brissett, Sam Darnold, Baker Mayfield, Taylor Heinicke and Daniel Jones, unless the Giants re-sign him.
Drafting and starting a rookie quarterback is a crapshoot, as the Bucs franchise has found out over the decades. From Vinny Testaverde to Trent Dilfer to Shaun King to Chris Simms to Josh Freeman to Mike Glennon to Jameis Winston, drafting a QB with a premium pick does not guarantee success. The more wins the Bucs stack up at the end of the year means a later draft pick in 2023, and the better QBs will go in the Top 10.
Takeaways, Not Giveaways
The Bucs need to flip the ol' saying "'tis better to give than receive," and make it "'tis better to receive than give" down the stretch. Turnovers have doomed the Bucs in their last two losses. Tampa Bay had three turnovers in San Francisco and only had one takeaway in a 35-7 shellacking two weeks ago.
The Bucs practically gift-wrapped last week's game with the Bengals, blowing a 17-0 lead and having four straight turnovers on four straight possessions in the second half. And that was on the heels of a turnover on downs on a botched fake punt attempt. Brady, who had two interceptions against the 49ers, had two more versus the Bengals along with two fumbles.
The Bucs defense only has eight interceptions on the season. After recording six in the first four games of the season, Tampa Bay has only notched two picks in the last 10 games, the most recent being Carlton Davis' diving INT last week against Joe Burrow. The Bucs face less-heralded QBs down the stretch in Arizona's third-stringer Trace McSorley, Darnold and Atlanta rookie Desmond Ridder. They need to pick off more passes. Some strip-sacks would also be nice.
Just as important as taking the ball away, which Tampa Bay's defense hasn't done enough of, is protecting the ball on offense. Not only has Brady been turnover-prone the last two weeks with six himself, but rookie running back Rachaad White has three fumbles on the year as well.
The Gift Of Health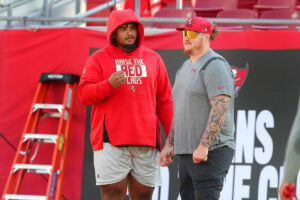 Bucs RT Tristan Wirfs and C Ryan Jensen – Photo by: Cliff Welch/PR
The Bucs have dealt with a myriad of injuries over the past two years. Last season, Tampa Bay's secondary couldn't stay healthy. That position has been hit hard again this year, but it's also injuries along the offensive line that have been problematic. Not only did the Bucs lose Pro Bowl guard Ali Marpet to retirement, the team lost Pro Bowl center Ryan Jensen to a season-ending knee injury on the second day of training camp.
Left tackle Donovan Smith missed some time early in the season with an elbow injury, and Pro Bowl right tackle Tristan Wirfs missed three games due to an ankle sprain. Thankfully, Wirfs is set to return on Christmas night against Arizona. Protection has been an issue for Brady this year, and he's had to get rid of the ball almost too quickly this season. That has stymied the Bucs' offensive production because there just hasn't been enough time for routes to develop downfield.
It's no coincidence that the Bucs' two Super Bowl seasons featured their healthiest rosters. In 2002, the only starter on injured reserve that year was nose tackle Booger McFarland, and the Bucs didn't miss a beat without him. In 2020, the lone starter on IR was right guard Alex Cappa, and Aaron Stinnie filled in admirably.
When the Bucs are healthy and near full strength, this is a roster full of players capable of making the playoffs. And doing some damage once they're in the postseason.
Continued Courage From Bowles
Bowles has been criticized for coaching scared and being too conservative at times this year. Look no further than the Bucs' half-hearted effort to try to win the Browns game in regulation with less than a minute left and three timeouts. Bowles neglected to use them wisely and Tampa Bay lost at Cleveland in overtime.
Most defensive coaches are conservative by nature, but Bowles showed some real courage against the Bengals in last week's 34-23 loss. He went for it on fourth down twice on the Bucs' first touchdown drive, with the score coming on fourth-and-goal. Then, he went for a fake punt on fourth-and-1 deep in the Bucs' territory in the third quarter that would have worked if Giovani Bernard would not have mishandled the snap.
While the execution on that play wasn't good, the process was. Tampa Bay's margin of error is smaller this year than in years past due to injuries and some roster departures. Bowles must have found some of Bruce "No Risk It, No Biscuit" Arians' leftover biscuits lying around One Buc Place. He needs to keep risking it on fourth down because this underachieving offense needs all the help – and plays – it can get.
A New Offensive Coordinator In 2023
Unless the Bucs offense starts to really click down the stretch and gets back to scoring around 30 points per game (which won't happen), I don't see how Byron Leftwich survives this season. He was Arians' coordinator on the Arians staff that Bowles inherited when he took over as head coach on March 30. Tampa Bay's offense has sputtered all season from predictability and a lack of creativity. The Bucs average just 17.6 points per game, which ranks 28th in the league.
Georgia OC Todd Monken – Photo by: USA Today
I think Bowles is going to want to make some changes to the coaching staff this offseason, and the big one will be at offensive coordinator. The guy I like for the job, and the name at the top of the list in Tampa Bay, should be Georgia offensive coordinator Todd Monken. He was the receivers coach in Tampa Bay from 2016-17 and the offensive coordinator in 2018.
Monken also was the Browns' offensive coordinator in 2019, so he has experience calling plays at the NFL level. And he would be coming from the college ranks, where offenses are more creative. Monken has worked for a defensive-minded head coach in Kirby Smart for the last three years, and the Bulldogs have gone 35-3 over that stretch, including a national championship last year and a perfect 13-0 record so far this season.
Monken is a pass-first coach who also knows how to mix in the run game and make it effective. Georgia has always had a strong ground game through the years. He's the highest-paid assistant in college football at $2 million per year, so the Glazers would have to pony up to get him. The chance to coach Brady (possibly) in 2023 would be one hell of a lure for Monken to come back to Tampa Bay.
Speaking of Brady, if he's the QB in 2023, Bill O'Brien would be another nice option at offensive coordinator. The former Texans head coach (2014-2020) was Brady's quarterbacks coach from 2009-11, and called the plays for the Patriots in the '11 season. O'Brien has been the quarterbacks coach for Bryce Young at Alabama, where he's also called the plays since the 2021 season under Nick Saban.
FAB 2. Will Brady Return To The Bucs In 2023?
Over a month ago, I wrote how the Bucs were squandering Tom Brady's final season in Tampa Bay in a previous SR's Fab 5 column. I didn't give Brady much of a chance to return for one more season with the Bucs if he wanted to come back and play a 24th season in the NFL.
But my viewpoint on that has changed after talking to multiple sources close to Brady. I have a hunch he's coming back to the Bucs in 2023.
Bucs QB Tom Brady – Photo by: USA Today
No, the 45-year old QB has not made any definitive decision about playing in Tampa Bay or elsewhere in 2023. He's too focused on finishing this season before worrying about the next one to even really consider it right now.
But there are four factors that could sway Brady to play another year at age 46, and possibly doing so in Tampa Bay.
The first is Brady's love for the game of football, dating back to high school. He's an alpha competitor and loves every aspect of football, which he shared with the media on Thursday.
"Yeah, I love playing, and I love playing with my teammates," Brady said. "I love practicing, I love working out, I love training, I love talking about football, I love talking about pass protection and run blocking and all the crazy stuff that [is] probably the stuff that not many of us think about. It's a lot of fun for me still."
Although he does have a lucrative deal with Fox as a lead commentator waiting for him when he retires, it doesn't sound like Brady is ready to hang up the cleats just yet.
More importantly than the game itself and the competition is the camaraderie Brady has with his teammates. That's the second factor.
Brady's fame goes beyond celebrity. He's an icon.
That means he can't go out many places in public without being mobbed by adoring fans. It's a level of fame that is limiting and can be overwhelming to him at times.
But inside the locker room with his fellow Bucs players, Brady is just a quarterback – a teammate. One of the guys, and not necessarily an icon. That's what Brady loves the most – and what he'll miss the most when he decides to retire.
"I think that's probably what we all enjoy most, is the camaraderie, I think, at the end of the day," Brady said. "For us, winning and losing, yeah it's fun and it's great, but I think when we're in our 50s and 60s, we won't be talking about those things as much. We'll be thinking about the moments we shared together with just really great people. I don't think you make it to this point in life as a professional athlete without being a really great person that cares about other people, that tries to do the right thing, that's really disciplined.
Bucs WR Mike Evans and QB Tom Brady – Photo by: USA Today
"It's hard to make it through college, high school and college, and then kind of be a young professional if you're not doing the right things and putting the team first very consistently. Those guys get weeded out pretty quickly. I have a lot of respect for guys that make it this far, not because physically it's challenging. Yeah, it is, but I think the mental/emotional part really keeps people in it. In order to do that, you've got to be a great teammate. The locker room kind of kicks you out. You just don't really fit in. The enjoyable part is the amazing relationships I've had through 32 years of playing football, between high school and college."
Brady has formed deep relationships with owner Joel Glazer and general manager Jason Licht, who have listened to Brady since his arrival in 2020 and respected his thoughts on personnel. Brady also has a high level of trust and friendship with his Bucs teammates, and was crushed to not be able to play with Pro Bowl center Ryan Jensen this year due to his season-ending knee injury in training camp. Jensen is on track for a full recovery in 2023.
The third factor in Brady's possible return is his divorce from Gisele Bündchen. Licht, head coach Todd Bowles and the Bucs organization stood by Brady throughout the painful process in training camp and into the regular season. That's not lost on Brady, who is as loyal as they come.
Bündchen was ready for Brady to retire after winning the Super Bowl in 2020. It was a struggle to get her blessing to continue to play in 2021 and 2022. Now, Brady doesn't have to answer to anyone other than himself when it comes to wanting to play another season or retire.
He's not having the MVP-caliber season he had in 2021, but Brady is still a Top 10 quarterback in the league even at age 45. Brady's skills have yet to truly diminish and he can still play at a high level.
The fact that his kids will reside in Miami, which is less than an hour away via plane, makes Tampa Bay as good of a destination to play as any in 2023. It's hard to see the Dolphins giving up on Tua Tagovailoa after he's helped lead Miami to an 8-6 record so far. But Miami would be the only other likely team Brady would consider as he wants to stay on the East Coast.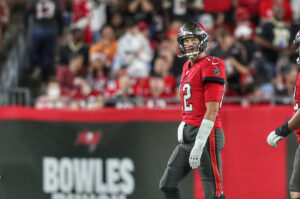 Bucs QB Tom Brady – Photo by: Cliff Welch
And finally, the last factor is the challenging 2022 season Brady and the Bucs are enduring. Brady is a fighter – the ultimate competitor. His teams have had double-digit wins for 20 straight years, dating back to New England in 2003. That streak ended this year, as the best record the Bucs can finish with is 9-8.
The Bucs have yet to clinch the NFC South and the playoff berth that comes with it. And that's not a given. Brady has been to the playoffs in 20 of his 23 seasons, and has the chance to make it 21 if Tampa Bay wins the division. For years, making the playoffs in New England came easy, as the Patriots averaged 12 wins a year with Brady at the helm.
This year in Tampa has been foreign to Brady – and a real challenge. Yet, it's a challenge the resilient Brady has embraced and not shied away from.
"I think the point is that resilience is a good thing, and I think we're all trying to learn resilience in different parts of our life," Brady said. "I'm trying to teach my kids about resilience, trying to teach everyone about it because it's important for all those things. You don't go 17-0, that's not the way it goes. You could quit, you could take the easy way out, you could find a way to not play in games. I'm sure a lot of players can do that, but I don't think there's a lot of rewards in that.
"So at the end of the day, I feel like you've got to find what you're learning from the challenges of losing games and the challenges of dealing with adversities. It brings a lot out of you. I think when you overcome them, you learn a lot from it, you can apply it in different ways in life, and I think there's a real benefit to that as you move forward."
Perhaps Brady will be moving forward in Tampa Bay for one more year in 2023.
FAB 3. Matchups To Watch: Bucs Offense vs. Cardinals Defense
Each week, you can find five matchups to watch on offense and defense in my SR's Fab 5 column. Here are the five key matchups to watch on offense when the Tampa Bay offense takes on the league's worst scoring defense (27 points per game) in Arizona.
WR Chris Godwin vs. SS Budda Baker
Baker plays all over the Cardinals defense – in the box, at free safety and in the slot. He's Arizona's best defender and will see plenty of Godwin down the middle of the field, whether it's in underneath coverage or as a two deep safety over the top. What Baker lacks in size (5-foot-10, 195) he makes up for in playmaking ability. Baker is the Cardinals' leading tackler and has six pass breakups, two interceptions and a forced fumble.
It's been just over a year (December 19, 2021) since Godwin tore his ACL against New Orleans and he's nearly all the way back. He's regaining some of his speed, and his ability to separate has gotten a bit better as the season has gone along. Godwin leads the Bucs with 81 catches and has 785 yards and three touchdowns – all of which have come in the last four games. He'll need to keep it up for the Bucs to have a chance of winning.
ADVANTAGE: Push
RT Tristan Wirfs vs. DE J.J. Watt
Bucs RT Tristan Wirfs – Photo by: Cliff Welch/PR
Watt is quietly having a very good season at age 33 for the 4-10 Cardinals. He has a team-leading 9.5 sacks and a forced fumble on the year. At 6-foot-5, 288 pounds, Watt still has size and power, but lacks the explosiveness he had in his youth and before a slew of injuries. If Arizona has a chance of beating the Bucs, Watt will have to have a big game.
Wirfs is ready to return to the starting lineup this week after missing three games with a suffered ankle that he sprained in overtime at Cleveland. Josh Wells, Tampa Bay's reserve right tackle held down the fort admirably. Wirfs was just named to his second consecutive Pro Bowl despite missing some time this year. Watt's power will certainly test Wirfs' ankle on Christmas night.
ADVANTAGE: Push
RB Rachaad White vs. ILB Isaiah Simmons
Simmons spends time playing linebacker and strong safety in Arizona's defense. The 6-foot-4, 238-pound athletic defender is a big-time playmaker. He's notched three sacks, two forced fumbles and two interceptions to go along with his 54 tackles. Simmons has the speed to cover White out of the backfield.
White didn't get as many opportunities as Leonard Fournette did last week against Cincinnati. The Bucs' third-round pick is second on the team with 408 yards and a touchdown while averaging 3.8 yards per carry. He's also been a factor in the passing game with 41 receptions for 247 yards and a touchdown. The Bucs need to get him more involved than Fournette moving forward.
ADVANTAGE: Push
LG Shaq Mason vs. DT Trysten Hill
Bucs RG Shaq Mason – Photo by: Cliff Welch/PR
Hill has played better football in Arizona than he did in Dallas where he flamed out due to inconsistent effort. The 6-foot-3, 310-pounder wins with a quick first step and his athleticism. If he can put it all together, Hill can be a force. At age 24, he still has time to mature, and doing it against a quality guard like Mason would go a long way.
Mason was named as a Pro Bowl alternate and has had a very good first year in Tampa Bay. He's undersized at 6-foot-1, 305 pounds but – like Hill – wins with quickness. The Bucs will need to have some success running the ball in Arizona to make Tom Brady's play-action fakes even more successful. Mason needs to team with Wirfs to make that happen.
ADVANTAGE: Mason
TE Cade Otton vs. FS Jalen Thompson
Thompson is the third-leading tackler in Arizona and is a force in the run game. He is also somewhat adept in coverage. Thompson has seven pass breakups and an interception on the season. But he's also given up four touchdowns this season, and at 5-foot-11, 190 pounds, he gives up a lot of size to Otton.
Otton has 37 catches for 357 yards, which ranks fourth this year in Tampa Bay. He also has a pair of touchdowns during his rookie season. The Bucs are still targeting Cam Brate too much and need to prioritize touches for Otton moving forward. The 6-foot-5, 247-pound tight end does a good job of using his frame to box out defenders to create separation. He'll need to do that against Thompson in coverage.
ADVANTAGE: Otton
FAB 4. Matchups To Watch: Bucs Defense vs. Cardinals Offense
Each week, you can find five matchups to watch on offense and defense in my SR's Fab 5 column. Here are the five key matchups to watch on defense for the Bucs as they take on third-string QB Trace McSorley and the Cardinals offense.
LB Devin White vs. RB James Conner
Conner has not been the scoring machine in his second year in Arizona as he was last year when he scored 15 rushing touchdowns and three through the air after coming over from the Steelers. But he's averaging 4.1 yards per carry with 624 yards rushing with six TDs. Conner has 36 catches for 228 yards and another score, and is a factor on all three downs.
White has played better since the win over Seattle in Germany. While he hasn't made as many splash plays as the team was hoping for, he's cut down on his mistakes and gaffes. But White has gone three games without a sack or a takeaway. Getting one on Christmas would be quite a present for Tampa Bay. White has to be stout while tackling the physical Conner and not blow any coverages.
ADVANTAGE: White
CB Carlton Davis III vs. WR DeAndre Hopkins
Bucs CB Carlton Davis III – Photo by: USA Today
Hopkins missed the start of the season due to a suspension, and hasn't made a huge impact since his return. While he leads the Cardinals with 63 catches for 713 yards, his 11.3 avg. is close to his career-low of 11.2 avg. in 2019. And his three touchdowns are five away from his total (eight) a year ago. Even without Kyler Murray throwing him the ball, Hopkins will still be the focal point of the Cardinals' game.
Davis is coming off an exceptional game in which he limited Ja'Marr Chase to three catches for 32 yards. He also broke up a season-high four passes and recorded his first interception of the year. Davis wants to play man coverage and be assigned to the opponent's top receiver. Whether or not that happens on Sunday on every down, he'll still get his share of covering Hopkins.
ADVANTAGE: Push
CB Sean Murphy-Bunting vs. WR Marquise Brown
Brown has not been the deep threat the Cardinals envisioned when they traded for him during the NFL Draft. He's only averaging 10.2 yards per catch and has three touchdowns on the season. At 5-foot-9, 170 pounds, Brown's only calling card is his speed, and he has yet to really demonstrate it. His longest catch of the season is only 26 yards.
Murphy-Bunting will get his second start in place of the injured Jamel Dean (toe), and he played really well in last week's game against Cincinnati. Confidence has been a problem for Murphy-Bunting in the past, but he seems like he's in a good spot mentally. He's had his struggles with speed receivers, so Brown could be a real challenge, especially without help over the top.
ADVANTAGE: Push
LB Lavonte David vs. TE Trey McBride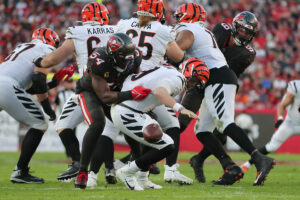 Bucs LB Lavonte David and Bengals QB Joe Burrow – Photo by: Cliff Welch/PR
The Cardinals were dealt a big blow when Zach Ertz went on injured reserve. Ertz leads Arizona with four touchdowns, and now the team has to turn to McBride, the Cardinals' second-round pick. McBride is a good athlete with great hands, but is only averaging 8.1 yards per catch on 16 receptions for 129 yards. Is a breakout in store for him on Christmas night? Not if the Bucs can help it.
David has had a steady season for the Bucs this year at age 32. He had sack and a forced fumble last week against Cincinnati, and Tampa Bay could use more splash plays from David this Sunday night. But perhaps more importantly, if David could reliably cover McBride and blanket him, that would be ideal.
ADVANTAGE: David
OLB Anthony Nelson vs. LT Josh Jones
Jones has been quite a find for Arizona. The third-round pick in 2020 has performed well in his six starts for the Cardinals. While he's given up sacks in back-to-back games, he's earned high PFF grades this season with a 74.1 overall grade and a 77.5 pass blocking grade. He'll have his hands full against a long and strong pass rusher like Nelson.
Nelson is in a contract year and needs a strong finish to cash in next year. That means getting to the quarterback more often. Nelson has 1.5 sacks in the last four games, and 11 tackles in the last two games combined. Nelson won't beat Jones with speed, so he'll have to beat him with strength, length and technique. Getting pressure on Trace McSorley is paramount and Nelson will be counted on to apply it.
ADVANTAGE: Push
FAB 5. SR's Buc Shots
• DO BUCS FANS WANT BRADY BACK? Pewter Report commissioned a poll on Twitter after the Bucs' 34-23 loss to the Bengals, asking fans if they wanted to see Tom Brady back in Tampa Bay in 2023. The results were a little surprising. While most said yes, the margin was closer than expected.
If Tom Brady wanted to come back for one more year in the NFL would you want him to return to the #Bucs in 2023?🤔

— PewterReport (@PewterReport) December 19, 2022
• ANOTHER 5,000-YARD SEASON FROM BRADY? Bucs QB Tom Brady has 3,897 passing yards this season with three games left. Brady would need to throw for an average of 368 yards per game to hit that mark once again. Not out of the question, but probably unlikely.
CELSIUS PEWTER REPORT TAILGATE PREGAME SHOW AT WALK-ONS
Bucs fans and Pewter Report fans can join the PR staff for a LIVE pregame show before each Bucs game – home and away – at Walk-Ons Sports Bistreaux. The CELSIUS Pewter Report Tailgate Show is presented by Age Rejuvenation. The next pre-game show at Walk-Ons will be for the Bucs-Panthers game on January 1 at 11:00 a.m. at the Midtown Tampa location, with Pewter GameDay beginning at 1:00 p.m. ET.
For those Bucs fans outside of the Tampa Bay area, every CELSIUS Pewter Report Tailgate Show presented by Age Rejuvenation will be streamed live on the PewterReportTV YouTube channel.
The Pewter Report Tailgate Show will feature a pair of Pewter Reporters and former Bucs tight end John Gilmore each week, offering up all of the analysis and matchups for that week's Bucs game live on location. There will be CELSIUS and PR giveaways in addition to game day food and drink specials at Walk-Ons.
Miller Lite pints are $3.99 and 22 oz pours are $5.49. Blue Moon pints are $5.00 and 22 oz pours are $7.00.
The CELSIUS Pewter Report Tailgate Show presented by Age Rejuvenation is an hour-and-a-half show and begins two hours prior to kickoff each week. Thirty minutes prior to kickoff, Matt Matera and Josh Queipo take over on the livestream and add their insight and pregame analysis. Then, Pewter GameDay begins as the Bucs kick off with Matera and a special guest providing insight and commentary throughout the game.
THIS WEEK'S PEWTER REPORT PODCASTS
• BUCS-CARDINALS PREVIEWS ON THE PEWTER REPORT PODCAST: The Pewter Report Podcast is energized by CELSIUS and broadcasts four live episodes each week. Next week's schedule will feature PR Podcasts on Monday, Wednesday and Thursday as the Bucs return home to play the Panthers for the NFC South title.
Matt Matera and Scott Reynolds recap the Bucs' 34-23 loss to the Bengals on Sunday in the Pewter Report Postgame Podcast.
Matera and Reynolds talk about Tom Brady's turnovers during Monday's show.
On Wednesday, Matera and Reynolds preview the Bucs vs. Cardinals game on Christmas night.
On Thursday's podcast, Matera, Josh Queipo and Adam Slivon discuss whether Joe Tryon-Shoyinka is ready to break out down the stretch for the Bucs.
Watch the Pewter Report Podcasts live on our PewterReportTV channel on YouTube.com and please subscribe (it's free) and add your comments. We archive all Pewter Report Podcasts. So, you can watch the recorded episodes if you missed them live.
There is no better time to listen to or watch a new Pewter Report Podcast – energized by CELSIUS – than Friday afternoon on the way home from work. Or early Saturday morning during your workout or while running errands.
The popularity of the Pewter Report Podcast continues to grow. In addition to listening to the Pewter Report Podcasts on PewterReport.com, you can also subscribe to the free podcasts at PodBean by clicking here and on SoundCloud by clicking here. And of course, the Pewter Report Podcast is also available on iTunes and YouTube. Make sure you subscribe so you don't miss a single episode.
The post SR's Fab 5: Brady's Return In 2023 Tops Bucs' Wish List appeared first on Pewter Report.
This content was originally published here.