The Bucs have a lot of needs to address this offseason, and they have a difficult path to do so. This point has been made clear, as the team has 23 unrestricted free agents and, per OverTheCap.com's most updated numbers, the worst cap situation in the league.
Bucs RB Leonard Fournette – Photo by: USA Today
It will be a daunting task for general manager Jason Licht, vice president of player personnel John Spytek, and vice president of football administration (and cap guru) Mike Greenberg to put together the 2023 roster. Many tough decisions lie ahead.
How does the team go about browsing the quarterback market? Which players will need to be cut to get into cap compliance? Which needs will be addressed in the 2023 NFL Draft? The last two questions could involve the team evaluating the running back position.
The 2022 season was an underwhelming campaign for Leonard Fournette. He rushed for 668 yards and averaged just 3.5 yards per carry. He led the team in rushing, which means very little when it was the worst rushing "attack" in the NFL.
Of Fournette's 668 rushing yards, 127 of those yards, or 19% of that total, came in the Bucs' 19-3 win over the Dallas Cowboys. Take that game away, and his average yards per carry of 3.2 for the rest of the season looks even worse. As well as this, he was outplayed by rookie Rachaad White for much of the season.
If Fournette is cut, the team will save over $3 million.
While the team may have larger needs, taking another rookie in Texas Longhorns running back Bijan Robinson makes a lot of sense for the Bucs as they look to build a new identity. If the team shifts to a ground-and-pound style of football, it would fit well with head coach Todd Bowles and how he could dictate the possession of the football. It would also allow new offensive coordinator Dave Canales to build a more efficient ground game with a generational running back prospect.
Is RB Robinson Worth Selecting With Bucs' First-Round Pick?
Is taking an elite running back worth a first-round pick? In the past five NFL drafts, it has been a mixed bag of teams selecting running backs with that high of a selection. Only one, the New York Giants' Saquon Barkley, was selected in the first half of his respective draft.
2022: None
2021: Najee Harris (24th) and Travis Etienne (25th)
2020: Clyde Edwards-Helaire (32nd)
2019: Josh Jacobs (24th)
2018: Saquon Barkley (2nd), Rashaad Penny (27th), and Sony Michel (31st)
Based on his college performance and traits, Bijan Robinson leans more toward being the prospect that Barkley was coming out of Penn State.
Last season at Texas, Robinson had 258 carries for 1,580 yards (6.1 yards per carry) and 18 touchdowns on the ground. He added 19 receptions, 314 yards and two touchdowns as a receiver. In many ways, he was the kind of playmaker the Bucs' offense could have used in 2022 and needs in 2023. Take a look at just how explosive Robinson is in this 12-play thread:
His 6-foot, 220-pound frame and play style has elicited comparisons to Barkley by NFL evaluators. After watching him myself, I see a lot of Jonathan Taylor through his similar cut style and kind of burst to get into the second level. This is evidenced further by his 41 runs of 10 or more yards in 2022.
Former San Diego Chargers RB LaDainian Tomlinson. – Photo by: USA Today
On the Pro Football Focus (PFF) NFL podcast this week, Mike Renner and Sam Monson had insightful outlooks in breaking down Robinson as a prospect and his value relative to the situation he may enter in the NFL. They also likened his do-it-all ability to 2000s backs Edgerrin James and LaDainian Tomlinson.
PFF rated Robinson on another tier compared to his running back peers. They gave Robinson a 96.1 rushing grade, ranking best in all college football. He also recorded 104 missed tackles forced while gaining 1,071 yards after contact.
All these numbers paint a picture of an elite prospect, but would it be worth it for a roster with so many needs?
The big question is the hole at quarterback, which probably won't be filled in the draft, this season at least. Many other needs lie on the defensive side, including safety, cornerback, defensive line, edge rusher, and linebacker. While not in dire need, the team could use depth at offensive tackle, depending on how they address it, and at wide receiver.
With this in mind, could the Bucs rationalize bypassing those areas of need if they can re-sign key players and use the rest of the draft to fill out their roster? Landing a player of Robinson's stature would be hard to pass up, especially picking at No. 19.
At that spot, the Bucs will likely not be in a position to draft a blue-chip prospect. Or at least, picking a player with a high hit rate. This is a draft that the Bucs need to knock out of the park for many reasons, and they may not be able to afford to draft another developmental player at this time.
Robinson is a can't-miss player, and the opportunity cost of a player the Bucs may pass up is one they could afford to take and rationalize. For instance, it is a deep cornerback class and a position group they could address later in the draft. If the team were to bring back guys like Lavonte David, Mike Edwards, Sean Murphy-Bunting, and Anthony Nelson, just to name a few, it would make selecting Robinson easier to justify.
Bucs' Offense Would Change Identity With RB Robinson
If the Bucs were to draft Bijan Robinson, it would mark a complete shift in the offense's brand of football from this past season. In quarterback Tom Brady's last season, it was an offense that relied on an NFL-record-setting number of passing attempts from a 45-year-old quarterback who did everything he could to will the team into the playoffs.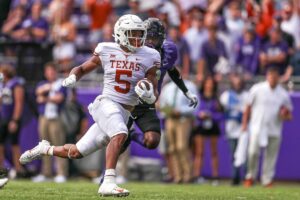 Texas Longhorns RB Bijan Robinson. – Photo by: USA Today
In many ways, it would be similar to what the Tennessee Titans have done with Derrick Henry. In a division that has been similarly weak to the NFC South before the Jacksonville Jaguars' emergence, the Titans have been an offense reliant on Henry to control the clock and have an efficient passing game free of making many mistakes or relying on the arm of Ryan Tannehill too heavily.
Another example includes two teams in the NFC South this past season. Both the Falcons and Panthers stayed alive for the division title because of their running games. The Falcons had the third-leading rushing game in the league, while the Panthers used their running game to compensate for Sam Darnold's and others' play.
It is still a passing league, but if the Bucs were to adopt a brand of "bully ball," they could find similar success in the coming seasons when Robinson would likely be peaking as a player.
Having an established offensive line already in place makes teams selecting running backs highly successful. The Bucs may have that kind of unit with a couple of adjustments. Regardless of whether he lines up at left or right tackle, Tristan Wirfs is one of the best tackles in the league. Center Ryan Jensen and right guard Shaq Mason are experienced veterans. Left guard play should be improved, whether Nick Leverett or Robert Hainsey fills that spot.
Moving Luke Goedeke to right tackle or solidifying left tackle through free agency or the draft arguably makes the offensive line a top-10 unit, or at least one that would provide Robinson enough holes to run through.
Other RBs Bucs Could Consider In The 2023 NFL Draft
Bucs RB Rachaad White – Photo by: Cliff Welch/PR
In both Pewter Report mock drafts this offseason, a running back has been taken in the fifth round in Tulane's Tyjae Spears and Pittsburgh's Israel Abanikanda.
While Spears and Abanikanda have been profiled in detail, they are two of many running backs that could complement Rachaad White.
One of those is Robinson's Longhorns teammate, Roschon Johnson. Johnson is a hard guy to bring down and would complement White's elusiveness with power. He also has high character and will be a young leader in any NFL locker room.
Georgia's Kenny McIntosh is also intriguing, as he was a dual-threat running back for the national champion Bulldogs in 2022. He had 829 rushing yards on an efficient 5.6 yards per carry, along with 10 touchdowns. Plus, he caught 43 passes for 505 yards and another two touchdowns. He is similar to White, but could still be a change-of-pace back.
The Bucs will add to the running back room one way or another in the coming months, but the best option to do so would be by selecting the top running back prospect in the past five years, Bijan Robinson. Whether they decide he is worth such a high pick is debatable, but one the front office should contemplate as they decide which direction to steer the ship.
The post Should Bucs Select RB Bijan Robinson In 2023 NFL Draft? appeared first on Pewter Report.
This content was originally published here.