The Bucs added another name to the list of candidates for their open offensive coordinator position Monday night, announcing that they completed an interview with Lions assistant head coach and running backs coach Scottie Montgomery.
Montgomery actually just accepted his current position with Detroit five days ago after spending two seasons as the Colts' running backs coach. He played his college ball at Duke and spent a few years in the NFL before beginning his coaching career. He coached Duke's wide receivers from 2006-2009, then hit the NFL ranks as a wide receivers coach with the Steelers for three seasons. Montgomery then went back to the college level, splitting time between Duke, East Carolina and Maryland. In 2021, he returned to the pros as Indianapolis' running backs coach.
While with the Colts, Montgomery worked with Jonathan Taylor, who was a Pro Bowl and All-Pro selection in 2021 after rushing for 1,811 yards (5.5 avg.) and 18 touchdowns in 17 games. Taylor then rushed for 861 yards (4.5 avg.) and four touchdowns in 11 games this past season.
Scottie Montgomery Joins A Long List Of Candidates For Bucs' Job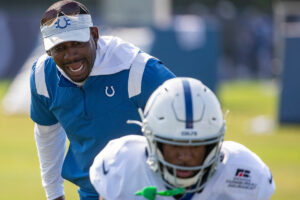 Lions assistant head coach/RBs coach Scottie Montgomery – Photo by: USA Today
Scottie Montgomery is the latest in a long line of candidates for Tampa Bay's vacant offensive coordinator position. He joins Broncos quarterbacks coach Klint Kubiak, Vikings wide receivers coach Keenan McCardell, Giants quarterbacks coach Shea Tierney, Jaguars passing game coordinator Jim Bob Cooter, Saints passing game coordinator Ronald Curry, Rams assistant head coach/tight ends coach Thomas Brown, Georgia offensive coordinator Todd Monken and Bengals quarterbacks coach Dan Pitcher as coaches who have been in the mix. Pitcher was the only one to interview twice, but after almost a month, the search continues.
The Bucs fired Byron Leftwich on Jan. 19 after the team averaged just 18.4 points per game in 2022. When the offensive coordinator search began, Tom Brady's future was still up in the air. Tampa Bay was reportedly asking candidates what their plans would be if Brady returned for another year. But on Feb. 1, Brady retired – seemingly for good this time. Now, the future of the quarterback position in Tampa is a complete mystery. And it's leading to problems with the search for a new coordinator.
Will Scottie Montgomery Be The Guy, Or Is He Just Another Candidate?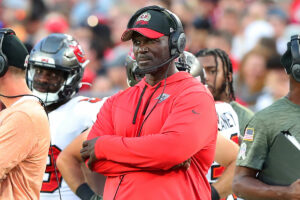 Bucs HC Todd Bowles – Photo by: Cliff Welch/PR
As Pewter Report's Scott Reynolds outlined over the weekend, the Bucs are having trouble finding an offensive coordinator for a variety of reasons. Brady's retirement and the lack of a clear direction under center is one of them. Another is the uncertainty surrounding the future of the coaching staff, with Todd Bowles catching heat for going 8-9 in year one, division title or no division title. The Bucs went one-and-done in the playoffs and Bowles' job security may very well be a question.
The Glazers have given every head coach they've hired at least two seasons, but if Tampa Bay drops off even further in 2023, who's to say whether or not they'll have patience with Bowles? They obviously like him, given that they made him the highest-paid defensive coordinator in football after the Super Bowl season and then greenlit Bruce Arians' succession plan when he retired and promoted Bowles to head coach. But if the owners aren't happy with the team's direction beyond 2023, they could choose to go in a new direction.
What this all means for the potential offensive coordinator, of course, is that they may be taking a risk by uprooting their lives and their family and moving to Tampa. If things don't pan out this season, they may have done so for nothing, at least in hindsight. That could be a huge obstacle as the Bucs continue their search. Take Pitcher and Monken, for example. Pitcher interviewed twice, but he has a good thing going in Cincinnati with Joe Burrow and the Bengals. Monken may have it even better, having won back-to-back national championships as Georgia's offensive coordinator, and the Bulldogs are going to be one of the favorites again in 2023.
So, with Scottie Montgomery becoming the ninth candidate to interview with the Bucs, it's starting to feel like this search has no end in sight. But then again, the Bucs have to find the right guy – not just a guy. Whether or not Montgomery is the right guy remains to be seen, he just took a new job last week. For him to consider making another jump already is noteworthy.
Not to mention, his background is a tad different than that of the other candidates. Most of the others are passing game coordinators and quarterbacks coaches, while he has worked with wide receivers and running backs. Bowles and the Bucs need to run the ball much better in 2023 than they did in 2022, when they had one of the worst rushing attacks in NFL history. Does the need to run the ball better lead them to Scottie Montgomery? We'll see what happens.
The post Scottie Montgomery Interviews For Bucs' OC Job appeared first on Pewter Report.
This content was originally published here.