Rachaad White has changed his jersey number this offseason and the Bucs have changed his spot on the team's depth chart. Conveniently, White will now wear No. 1 and is currently RB1 in Tampa Bay with the expected, looming release of Leonard Fournette.
"It is a blessing," White told Pewter Report. "Then, I feel sad for people because of my number changing, already changed to [1]. I changed my number, I was already setting on it. I wanted to do that last year, but it was a bad time (as Jaelon Darden wore No. 1 last year)."
The Bucs' eventual release of Fournette was totally expected this offseason. Fournette's numbers declined last year, and Tampa Bay can save nearly $3.5 million in cap room by releasing the sixth-year veteran.
Speaking of numbers, White's statistics were modest during his rookie season. The team's third-round pick rushed for 481 yards and one touchdown on 129 carries (3.7 avg.) while catching 50 passes for 290 yards (5.8 avg.) with two TDs, including the game-winner against New Orleans.
Bucs RB Rachaad White – Photo by: Cliff Welch/PR
"Rachaad is a good, young back that is just scratching the surface of what he can do," Bucs general manager Jason Licht said at the NFL Scouting Combine.
White knows the Bucs will either draft another running back or sign one in free agency to fill out the depth chart, but is ready to compete for a bigger role this season. So much so that he's literally letting everyone know he plans to be the Bucs' No. 1 option in the backfield with the new jersey number.
"Yeah, I'm ready to do whatever my coaches feel like," White said. "That's how I have always been, how my mom raised me. I'm coachable and very respectful, and whatever my coaches feel or whatever happens is kind of meant to happen. If it's not this year or whatever, my time is going to come when it's ready for me. God has a plan, and there's going to be a time for me to be the number one guy.
"Whether this year, next year, or whatever year in my career. When I get that opportunity, that's up to me. I'm not wishing anybody to get cut, I'm still focused on my game, controlling what I can control, and I wish everybody [nothing] but the best. At the end of the day, I'm a competitor, and my track record shows everywhere I have been, I just compete. I've always felt — regardless of the fact — that's what I can control, to compete."
Rachaad White Is Now Up To 220 Pounds
White told Pewter Report he can become a 1,000-yard back with more carries. Tampa Bay ranked last in rushing yards (75.6 per game) and rushing attempts (22.1 per game) in 2022.
"Yeah, you'd be excited [with] a 100-yard game and things like that," White said. "I've just got to come in and show and prove every day who I am, what I want my game to be like and what I want to establish in the league. With the opportunities, it is up to me to make the most of them. Do I believe I could be a Pro Bowl guy next year or something like that? Yes, that is just firmly what I believe if I get the opportunity that a lot of other guys are getting."
Bucs RB Rachaad White – Photo by: USA Today
With the Bucs expected to run the ball much more under new offensive coordinator Dave Canales, who will bring the Seattle offense to Tampa Bay, White has been working out hard during the offseason. He's already gained some size and wants to play with more power in 2023.
"My weight last year was 213 to 217," White said. "I was just maintaining – I would say it's just how it is. My metabolism is still fast — some days I wake up at 217, and some days I'll wake up at 215 — you just never know. I'm really focused and locked in, just changing certain ways that can help take my game to the next level.
"I'm 220 – that's where I'm at right now, and I'm just kind of maintaining it," White said. "I've thought about – I've talked with AP (Bucs strength coach Anthony Piroli) about getting to 225. At 220, I think it would be like the perfect weight. … I have a lean stature – but 220 is where I'll probably end up staying at, in the range of 220-225."
Canales is excited to see what White can do in his offense.
"You go, 'Wow this guy could be special,'" Canales said. "He's got a great skill set that really fits into our system."
While the Bucs won't abandon some of their between-the-tackles "duo" gap scheme runs, Tampa Bay will incorporate more wide zone and outside zone runs with Canales calling the plays. That's music to White's ears.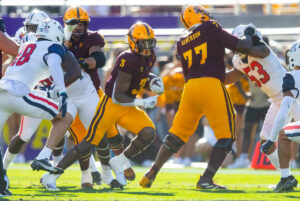 Bucs RB Rachaad White – Photo by: USA Today
"We ran a good amount of outside zone in college," White said. "We ran a lot of things, but yeah, we ran outside zone and things like that for sure at Arizona State. I like it, I think we've got a good run scheme. They've got a good balance in Seattle. Also, they had the pieces and the team, the camaraderie, which I believe we had. That's what Coach [Todd] Bowles has been harping on. Just been training individually and ready to get back to OTAs and whatever voluntary work. Just have fun, learn a new playbook, and that's all it's about."
With a new number, a new spot on the depth chart and a new offense, White feels like he could thrive in the Bucs' new ground game.
"I just feel like I could do anything you need me to do," White said. "You want the defense to run sideline to sideline because it opens up a lot of things. I really like what Coach Canales said, 'Everything helps each other, everything piggybacks off each other.' The run piggybacks off the pass – it's the same thing with the scheme. Wide zone, you know, it helps the gaps, it helps the inside zone, it all helps each other. I'm really looking forward to stretching the defense.
"At the end of the day – it's about opportunities and what you make out of it. I feel like I got a great opportunity ahead, and that's what I've been priding myself on my life and journey the whole time. It's up to me to make what I do with what I get."
The post Rachaad White Is Now No. 1 – And RB1 For Bucs appeared first on Pewter Report.
This content was originally published here.