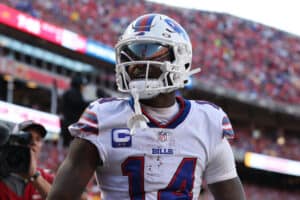 The Worksheet, a fantasy football overview by Rich Hribar, breaking down everything you need to know for the Week 8 Green Bay Packers at Buffalo Bills Sunday Night Football game.

Green Bay
Rank
@
Buffalo
Rank
11.5
Spread
-11.5
18
Implied Total
29.5
18.3
23
Points/Gm
29.3
2
20.9
14
Points All./Gm
13.5
1
62.3
19
Plays/Gm
66.8
8
57.6
2
Opp. Plays/Gm
59.2
3
5.3
17
Off. Yards/Play
6.6
1
5.4
12
Def. Yards/Play
4.8
4
38.53%
21
Rush%
36.41%
26
61.47%
12
Pass%
63.59%
7
50.62%
31
Opp. Rush %
36.62%
6
49.38%
2
Opp. Pass %
63.38%
27
Buffalo has scored 68.5% of the points in their games this season, the highest rate in the league.

The Packers have been outscored by 43 points (43-86) in the second half this season, 31st in the league.

The Bills have scored on 46.0% of their possessions, third in the league.

Green Bay has scored on 26.9% of their drives, 30th in the league.

No team has reached their implied team total against the Bills, the only team in the league to hold every opponent below their team implied team total.

The Bills are averaging a first down or touchdown once every 2.9 offensive plays, second in the league.

Buffalo is averaging 42.7 yards per drive, the most in the league.

85.0% (17-of-20) of the Buffalo touchdowns this season have come via passing, the highest rate in the league.
Quarterback
Josh Allen: If you want some context for how good Allen has been this season, he did not play last week and is still the highest-scoring fantasy quarterback on the season. 
Allen has been a top-five scorer in all six weeks he has played this season, sitting first in passing points per game (23.2) and fifth in rushing points per game (6.3) among quarterbacks. 
Allen is the set-and-forget QB1 in fantasy and will look to keep his top-five streak cooking against a Green Bay defense that has been aggressive this season. 
The Packers are blitzing 41.3% of the time (second in the league) and are creating pressure on 38.8% of dropbacks, also second in the league. 
Allen has been blitzed on 34.9% of his dropbacks (seventh highest). He is 22nd in completion rate (59.8%) and 11th in yards per attempt (7.3 Y/A) against the blitz with six touchdowns (third) as opposed to a 70.7% completion rate (ninth), 8.8 yards per attempt (fifth), and 11 touchdowns (first) when he has not been blitzed. So, teams are just willing to take their chances getting home with extra pass rushers. When pressured on blitzes, Allen is 9-of-25 (36.0%) for 140 yards (5.6 Y/A), so it is hard to argue that choosing this all-or-nothing approach is the best hope you have in slowing this train down a bit.
To continue reading this article
and gain access to The Worksheet and all of Rich's regular content, including positional rankings, and chats, click below to purchase our season-long Fantasy Package.
This content was originally published here.