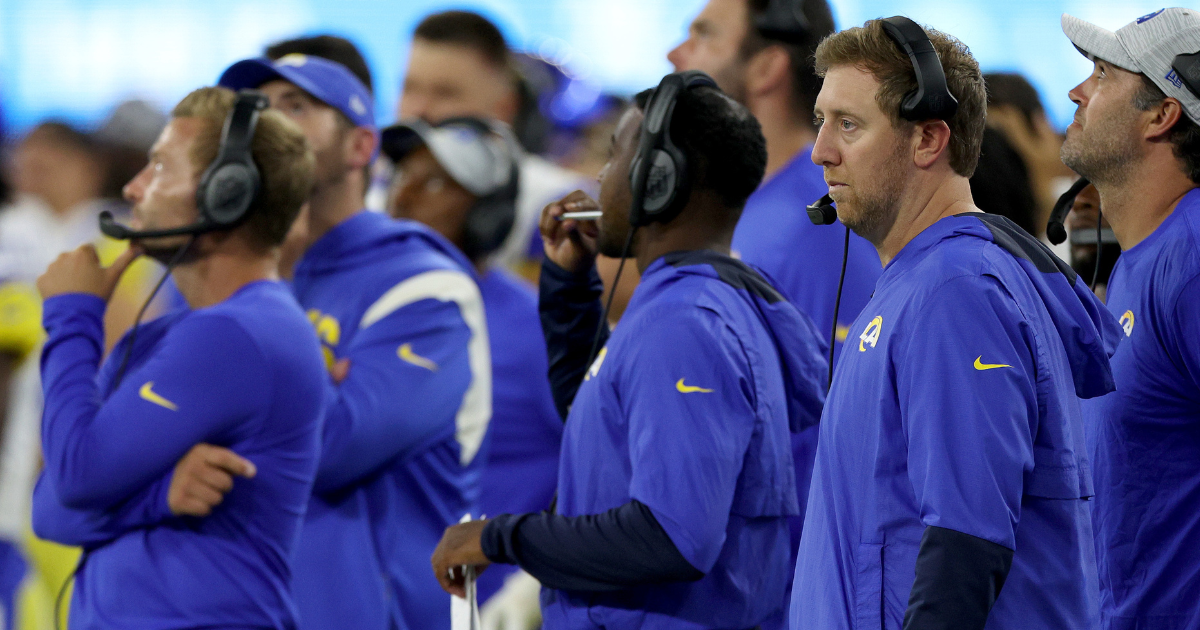 Nineteen former Kentucky football standouts have made NFL active rosters entering the 2022 season, which begins this evening when the Buffalo Bills take on the Los Angeles Rams. Six other Wildcats made practice squads of their respective organizations.
Another individual with Kentucky ties, though, is set to make his debut as an NFL offensive coordinator in Liam Coen.
Coen, who spent the 2021 college football season with Kentucky as the team's play-caller, will officially begin his time as Los Angeles' offensive coordinator on Thursday. And though head coach Sean McVay has called plays for the franchise since he arrived back in 2017, Peter Schrager of FoxSports.com and Good Morning Football is reporting that Coen is set to take over those duties this season.
McVay, who just finalized a contract extension to keep him in LA through the 2026 season, will handle big-picture, day-to-day team duties while Coen will take over the "down-by-down."
"I'll tell you, the word out of LA right now is that (Coen) has a lot of autonomy on this offense," Schrager reports. "That (Sean) McVay is more looking like a CEO, kind of taking himself out of that down-by-down. Now, Liam is the one doing that."
Coen was with the Rams from 2018-20, serving as the franchise's assistant wide receivers coach for two years before taking over as assistant quarterbacks coach in year three. Then, his move to Kentucky, where his offense produced 32.3 points, 425.2 total yards and 225.6 passing yards per game, giving the Wildcats the No. 5 offense in the SEC compared to No. 11 overall the year before.
Combine his past time with the Rams and his clear talent as a go-to play-caller, it was an easy decision for McVay when the franchise's OC position opened up in the offseason.
"Liam's always a guy that I leaned really heavily on for the three years that we were together," McVay told ESPN's Sarah Barshop. "We stayed in great touch. When you have somebody like that, in addition to a handful of other guys on the offensive staff, you feel so good about allowing him to be able to lead.
"I wanted to do everything I could to get him back here, and fortunately it's worked out."
Coen told ESPN that it was an "unbelievable opportunity" in Lexington, one he considered keeping even when the Rams came calling. He understood McVay was the offensive mastermind in Los Angeles and he would not have the same freedom he did at Kentucky.
But it's the NFL. And it's the offensive coordinator position for the Rams, the easiest stepping stone to a head coaching job in the league. The Vikings just hired Kevin O'Connell as their head coach after he served as the OC in LA. Same with Matt LaFleur, who got hired to coach the Titans, then the Packers a year later.
Even Zac Taylor, a former quarterbacks coach with the Rams, was hired as the head coach of the Bengals in 2019.
He loved his time in Lexington, but the Rams OC job was a can't-miss opportunity, one he hopes turns into a head coaching job in the NFL sooner rather than later.
"Ultimately, hopefully," Coen told ESPN. "That's the end game."
It all starts tonight when Coen's Rams take on the Buffalo Bills at 8:20 p.m. ET on NBC.
The post Liam Coen set to make NFL OC debut with L.A. Rams appeared first on On3.
This content was originally published here.