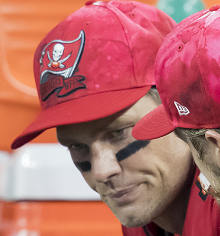 Old dudes viewed Joe Montana as The Goat before Tom Brady took the title and ran away with it. Even Brady himself quickly admits Montana was one of his boyhood idols.
Montana was a skinny and brilliant quarterback assassin who absorbed the punishing hits of the loaded NFC in the 1980s and early 1990s, all while racking up four Super Bowl wins in four tries.
And after back-to-back MVP awards for the 1989 and 1990 seasons, Montana's major elbow injury launched the career of his backup, Hall of Fame QB Steve Young. Montana was benched when he got healthy and then asked out of San Francisco.
He was traded to the Chiefs and was in the AFC Championship game nine months later.
So yeah, old guys care what Montana has to say about quarterbacks.
Montana made the rounds on Radio Row at the Super Bowl yesterday and joined CBS Sports Radio. Of course, he was asked about Brady.
Among other things, Montana said Brady retired at "a good time" and strongly implied the decline in Brady's play this season made him quitting make sense.
"Tom's great. I mean, you watch him play, but I think his decision's a good time. You watched the games there toward the end of the year (makes shaky hand gesture), it's just, his mind is other places," Montana said.
Joe knows a sect of Bucs fans is happy to see Brady go, largely because he didn't play like the guy who should have won MVP for the 2022 season. Brady took a step backwards, but Joe doesn't believe it was a big enough step to think it was "a good time" for Brady to quit.
Joe thinks Brady was primed for a bounceback season, one with a competent offensive coordinator, Ryan Jensen at center, and a running game that was no longer the very worst in football.
This content was originally published here.