BY IRA KAUFMAN
That conga line inside the Buc locker room says it all.
As Tampa Bay players and coaches filed in after Sunday's dramatic victory, they were greeted by the Glazer clan. Down the row they went, exchanging high fives, low fives and fist bumps with Bryan, Joel, Avi and Darcie.
There were smiles all around following a massively consequential 30-24 win against the pesky Panthers. Instead of hoping Carolina loses next week at New Orleans, the Bucs can gather their collective breath, knowing they are locked into the NFC's No. 4 playoff position as division champions.
It didn't come easy. In fact, there were times when it looked like it wouldn't come at all as Tampa Bay fell behind 14-0 in the first half and then 21-10 early in the fourth quarter.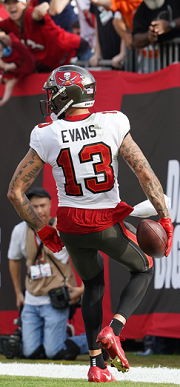 That's when Mike Evans and Tom Brady staged an entertaining air show during a 20-point blitz that sewed up the NFC South.
On an afternoon when Bruce Arians entered the Ring of Honor, Brady threw for 432 yards and three TDs, adding a 1-yard scoring run of his own. Evans, who averaged only 49 yards in his previous seven games, ravaged Carolina's secondary for 207 yards, highlighted by three long TD catches.
Rookie punter Jake Camarda got into the act with a terrific athletic play in the final minute as the Bucs evened their record at 8-8 in this most odd of seasons.
Tampa Bay won the turnover battle and Carolina's running game never materialized. The Bucs didn't think Sam Darnold could beat them, but he almost did, throwing for 341 yards and three scores.
In the end, the Bucs made more plays in crunch time, so fans are guaranteed to see Brady and company at least one more time at Raymond James Stadium.
For Todd Bowles, his biggest decision this week is figuring out who to rest in Week 18. That's a far cry from needing a win in Atlanta and rooting for the 7-9 Saints.
Here's how the Bucs rallied for a 30-24 triumph that avoided Brady's first losing season as a pro.
* Arians was brief and gracious during his halftime ceremony and the Bucs honored him with a return of the long ball. Evans had only three catches all season of at least 40 yards before latching on to TD grabs of 63 and 57 yards. He added a 30-yard score midway through the fourth quarter that put the Bucs ahead for good.
* As Brady readily acknowledged, you don't average almost 9 yards per pass attempt without stout protection. "Awesome, awesome," he said. "Our guys held up great in there and we kept slugging it out. Thank you, guys."
* Evans had such a majestic day that it's easy to overlook the contributions of Chris Godwin, who caught all 9 passes Brady sent his way for 120 yards. Godwin needs only two catches next week to reach 100 for the first time and only 32 yards to join Evans with 1,000 yards. Not too shabby for a gritty player who tore knee ligaments late last season.
* In a wild fourth quarter, Anthony Nelson turned in a huge play with Carolina trailing 24-21. On first down from the Panthers 13, Nelson's strip-sack of Darnold was recovered by Vita Vea. Two plays later, Brady dove in from a yard out to open up a two-score advantage with 1:58 remaining. In the past four games, Nelson has 19 tackles, 2 1/2 sacks and 3 forced fumbles. In other words, he's a keeper.
* Camarda might have saved the day by handling an errant snap by Zach Triner, scampering down the left sideline to avoid pressure and nailing a 41-yard punt to the 3-yard line. The dazzling play forced Carolina to accept a penalty and Camarda's second punt pinned the Panthers back at their 8-yard line with only 26 seconds left.
* Sean Murphy-Bunting turned in another strong game with an interception, a forced fumble and two passes defended. "We look at it deeper than football," he said. "It's a brotherhood and we rely on each other because this is how we provide for our families."
* As usual, the Bucs had few points to show for in the opening half, despite rolling up 201 yards. They were fortunate to be within 14-10. For the season, Tampa Bay has scored only 10 TDs in the first two quarters. "When we hopped on them, we can't let momentum change," said Panthers DE Brian Burns. "We can't let it switch that fast and twist that bad."
* The Bucs checked off all of the key boxes for Bowles — reign in Carolina's robust ground game, win the turnover battle and own field position. "They came in and had a really good game plan," said Panthers RB D'Onta Foreman. "I felt they were getting to us on the backside on some of our plays."
* Brady wants to play next week. I understand — he's one of the greatest competitors this game has ever known. But if I'm Bowles, I don't care. Brady sits.
* This could have been Brady's final home game as a Buccaneer, but it's not. The Cowboys or the Eagles are coming to Tampa in two weeks and Brady, 35-12 in the postseason, will be waiting. That's a queasy feeling for any defense.
So, so many great offers now at Bill Currie Ford, home of the nationwide lifetime warranty on new and used vehicles. Start shopping!
This content was originally published here.