Former Bucs offensive coordinator Byron Leftwich is scheduled to interview with the Baltimore Ravens, according to ESPN's Jeremy Fowler. The Ravens and long-time offensive coordinator Greg Roman parted ways after the 2022 season so Roman could pursue other coaching opportunities.
Leftwich was fired by Bucs head coach Todd Bowles on Thursday after Tampa Bay's offense finished the season 25th in the league in scoring with just 18.4 points per game. This comes after back-to-back seasons in which the Bucs offense ranked inside the Top 3, averaging 30 points per game in helping the Bucs win Super Bowl LV in 2020 and go 13-4 in 2021.
Shortly after the Bucs' 31-14 loss to the Cowboys in the Wild Card playoffs, Pewter Report broke the story that Leftwich would be fired, then reported on the circumstances of his dismissal in Friday's SR's Fab 5 column.
Among prominent coaching names I'm hearing are firmly on #Ravens' radar for offensive coordinator: Former Colts head coach Frank Reich, Chiefs OC Eric Bieniemy and former Bucs OC Byron Leftwich.

In-house candidates Tee Martin and James Urban could get a look, too

— Jeremy Fowler (@JFowlerESPN) January 22, 2023
Leftwich is one of five current candidates Fowler identified for the Ravens offensive coordinator opening. The Bucs have a similar opening due to Leftwich's departure, but so far the team is being tight-lipped about potential candidates it has interviewed or is planning to interview.
Leftwich's Predictability And Lack Of Ability To Adapt Led To His Downfall In Tampa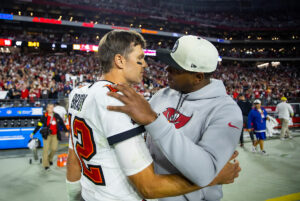 Bucs QB Tom Brady and OC Byron Leftwich – Photo by: USA Today
A major part of Leftwich's firing comes from his inability to adapt to the turnover on the Bucs offense. Pro Bowl left guard Ali Marpet retired this offseason, as did future Hall of Fame tight end Rob Gronkowski. Wide receiver Antonio Brown — as much trouble as he was — also contributed a great deal to the offense last year before peace-signing his way out of town and out of football. Pro Bowl center Ryan Jensen then went down during training camp with a severe knee injury and didn't return until Monday night's playoff game.
Simply put, the personnel Leftwich had to work with this season hasn't been the same star-studded group he had the last two years. But then, an argument can be made that a great offensive coordinator should be able to adapt and overcome, creatively scheming ways to get the best out of the personnel he does have. It's fair to say the best offensive coordinators don't need Pro Bowl and Hall of Fame talent all over the field to be successful, either.
But personnel and execution aside, Leftwich's philosophy just didn't work for Tampa Bay in 2022. His downfall was ultimately a result of his almost-dogmatic belief in trying to repeatedly run the ball on first down despite poor efficiency in doing so. And when that belief backfired on the Bucs, the adjustments either weren't there or the wrong buttons were pushed.
The post Former Bucs OC Leftwich To Interview With AFC Team appeared first on Pewter Report.
This content was originally published here.