There are many candidates who could become the Bucs' next offensive coordinator after the firing of Byron Leftwich last week. Looking over this list, each candidate listed brings with them a connection to a quarterback who could start for the Bucs in 2023. As quarterback Tom Brady considers his options for next year, large questions loom over the franchise and the direction they choose.
Will Brady return for one last playoff run in Tampa? Do the Bucs sign another veteran if Brady departs and keep their window open in what is projected to be a weak NFC South next year? If the GOAT chooses to retire, would the team enter a mini-rebuild and set their sights on the 2024 NFL draft that features USC's Caleb Williams and North Carolina's Drake Maye as the top options? Any of these paths remain a possibility as the offseason begins.
As chatter picks up on who the Bucs could consider as the next offensive coordinator, and with an uncertain quarterback picture, there are interesting pairings the team could consider. None of these candidates close the door on a Brady return, but there are plenty of qualified assistants head coach Todd Bowles can decide to bring on with ties to various quarterbacks.
College Connections
Two offensive coordinators have NFL experience and unique ties to the Bucs, and the only quarterback guaranteed to be on the roster next season.
Georgia Offensive Coordinator Todd Monken And Quarterback Stetson Bennett IV
Monken has been mentioned as one of the top names to watch for the offensive coordinator opening, as reported by Scott Reynolds of PewterReport and also by Ian Rapoport and Mike Garafolo of NFL Network:
If Monken returns to the Bucs, where he served as offensive coordinator from 2016-2018, he might bring a 2x College Football Playoff National Champion to Tampa Bay with him. Stetson Bennett is a controversial player entering the NFL Draft, as his age (25) and size (5-11) could make him a day-three pick or UDFA.
What Bennett lacks in prospect youth and height, he makes up for in terms of work ethic and familiarity with Monken. Since claiming the starting role with Georgia in 2021, he has gone 26-1 as a starter while throwing for 6,989 yards, 56 touchdowns to just 14 interceptions. He even added ten rushing touchdowns last season. In Georgia's 65-7 rout of TCU earlier this month, he tied quarterback Joe Burrow with six total touchdowns in a CFP National Championship Game.
He may not have the athleticism of Alabama's Bryce Young or the prototypical build of Kentucky's Will Levis. Still, he carries the ability to win games and makes smart decisions with the football. If the Bucs choose to go with quarterback Kyle Trask as the starter next season, bringing in Bennett as competition and as a quarterback with experience in Monken's system if Trask struggles wouldn't hurt.
Oftentimes, the NFL's best quarterbacks are those who have defied the odds and scouting reports. Bennett could carry his underdog story to Tampa Bay if Monken is hired.
Eagles Quarterbacks Coach Brian Johnson And Quarterbacks Gardner Minshew/Kyle Trask
Bucs QB Kyle Trask – Photo by: USA Today
Johnson is another intriguing option for a few reasons. He has overseen the breakout and MVP-Caliber season of Jalen Hurts. He could bring Gardner Minshew with him if the Bucs want to bring in some quarterback competition. But perhaps the biggest storyline, if Johnson is hired, is his work with Trask at Florida in 2020. Johnson served as Trask's offensive coordinator and quarterbacks coach that season.
He worked with Trask for three seasons, but 2020 put Trask on the NFL map. With weapons such as wide receiver Kadarius Toney and tight end Kyle Pitts, Trask threw for 4,283 yards, 43 touchdowns, and eight interceptions.
Trask would end up being the last pick of the second round by the Bucs in 2021 and is still developing as an NFL player. If they want to aid his development, hiring the coach who oversaw his college success would be a great start.
If the front office decides competition for Trask is a prerequisite for next season, Gardner Minshew is a realistic option. Minshew would bring his unique personality and "Minshew Mania" to Tampa Bay and quickly become a fan favorite.
But more than that, he has started 24 NFL games and has a 44-15 TD-INT ratio. He is one of the top backups in the league and is also a free agent this offseason. He would be inexpensive, and the Bucs would surely like a cheap quarterback option as they navigate their tight cap situation. They would be hard-pressed to find someone with starting experience who would likely command a backup salary.
All of this ties back to Johnson. His track record with Trask in college and connection to Minshew makes him a sleeper pick to be the next offensive coordinator. The Eagles' offense this season averaged 28.1 points per game and game-planned their offense around two 1,000-yard receivers. Sound familiar? Mike Evans and Chris Godwin would not experience a dropoff in production and having a young mind with Johnson, who is only 35, makes a lot of sense.
There are three other quarterback-offensive coordinator pairings on the table should the Bucs aim their sights on a more established starter.
Former Indianapolis Colts Head Coach Frank Reich And Quarterback Jacoby Brissett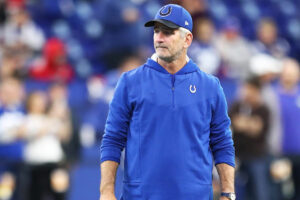 Colts head coach Frank Reich – Photo by: USA Today
Reich is a popular name for head coach and offensive coordinator openings in the coaching cycle. He has interviewed for the Arizona Cardinals and is expected to do the same with the Carolina Panthers for their respective head coaching positions. With ten offensive coordinator openings across the league (including the Bucs), if he wants a job, he is certain to be offered one somewhere.
If the Bucs become a front-runner for Reich, the team may sign Jacoby Brissett as a veteran option at quarterback. Brissett spent most of 2022 starting for the Cleveland Browns while Deshaun Watson was suspended.
Brissett does not wow as a starter, as in the three seasons he has started most of his team's games (2017, 2019, and 2022), he failed to eclipse 20 touchdown passes. He would fill the role of a game manager, as he is smart with the football and has only 23 interceptions in 48 starts (18-30 record).
Brissett's experience in Reich's system and across the league is worth keeping tabs on. In 2019, Zac Keefer of The Athletic did a great write-up of Brissett and the challenges he faced replacing Andrew Luck after his retirement (subscription required). He could do the same by filling the shoes of "Tom Terrific."
 49ers Offensive Passing Game Coordinator Bobby Slowik And Quarterback Jimmy Garoppolo
Slowik is a young option for the Bucs, as he is only 35 years old. Despite this, he has been in the league for over a decade. He has been in San Francisco since 2017 under head coach Kyle Shanahan. Taking someone who has been one of Shanahan's confidants could be a bold step in changing offensive concepts. This season, the 49ers have shown they can excel regardless of who is under center. The Bucs got a taste of this when they were dealt a 35-7 loss in Week 14 in Brock Purdy's first career NFL start.
Thanks to the system the 49ers operate, the quarterback can make smart reads and easily get the ball into their playmakers' hands. With Purdy locked in as the starter in 2023 and 2021 first-round pick Trey Lance still on his rookie deal, they are likely to part with veteran Jimmy Garoppolo.
Garoppolo is a former understudy of Brady's from 2014-2016 and was rumored to be an option to come to Tampa Bay after Brady's brief retirement last season. Replacing him this time around would keep the team in the running for the NFC South division title next year.
Simply put, he knows how to win, and it is not a stretch to say he is a top-15 or top-20 quarterback. He would be more pricey than Minshew or Brissett, but he comes with more upside.
Wes Welker is also an interesting tie to Slowik (and Brady) if he were to return. Welker currently serves as the receivers coach for the Miami Dolphins and had the same role with the 49ers in 2019-2021. Of course, he also has a history with Brady as one of his favorite receivers from his time in New England. With the Bucs firing Kevin Garver, Slowik could put in a good word for Welker, and Tampa Bay would surely do anything to appease Brady. Definitely worth keeping an eye on.
Former Colorado Buffaloes Head Coach Karl Dorrell And Quarterback Geno Smith
If the Bucs want to give Todd Bowles free rein in bringing in former assistants from his time with the New York Jets, Dorrell is an interesting name to consider for all the dots it would connect. Dorrell was the Jets' receivers coach from 2015-2018. 2015 and 2016 were also seasons in which quarterback Geno Smith overlapped with both Dorrell and Bowles.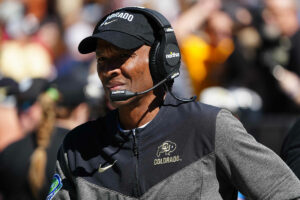 Karl Dorrell – Photo by: USA Today
It could also get weird. If Bowles chooses to bring in Dorrell as an offensive coordinator, one wonders if he'd consider bringing in Stump Mitchell. Mitchell served under Bowles from 2017-2018 as his running backs coach.
The defensive side of the ball operated with two defensive coordinators this season under Larry Foote and Kacy Rodgers. With the experience Dorrell has with quarterbacks and receivers and Mitchell with running backs, Bowles could opt for multiple coordinators overseeing different position groups and having one call plays. It would be unorthodox, but the Patriots did something similar with Matt Patricia and Joe Judge this season.
Bringing in Smith would make this a reunion for the ages. He'd likely command at least $30 million annually, so the Bucs would have to get creative to bring him in and have hope that his 2022 season was not an outlier.
Back in November, Bowles commented on the play of Smith this season in Seattle, a season in which he is likely to claim AP Comeback Player of the year.
"It was a long time ago since I've had him," Bowles said then. "Obviously, he could always play the game – confidence was never a problem for him. You make a mistake in this league, you come back and you make some plays – he's done that. He's been good at it. He's been a great fit for [the Seahawks]."
Could he be a fit for the Bucs in 2023 and beyond? It's possible.
The post Five Potential Bucs QB/OC Duos In 2023 appeared first on Pewter Report.
This content was originally published here.