Over the past six NFL Drafts, Bucs general manager Jason Licht and the rest of the team's front office have put together a team with a promising young core. A team still intact enough to remain competitive in 2023 even with veteran departures. 
The Bucs have had plenty of success during Licht's tenure. This includes being fresh off their third straight playoff appearance and winning the Super Bowl (in Tampa) in 2020.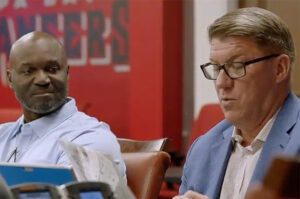 Bucs head coach Todd Bowles and GM Jason Licht – Photo courtesy of the Buccaneers
But in every draft, there are swings and misses. To take the baseball analogy a step further as the MLB season begins to get underway; for every home run and extra-base hit, there's an infield single, ground out, or failed bunt attempt.
So what does this all mean? Pewter Report's cap analyst and film expert Josh Queipo and Pewter Reporter Adam Slivon have gone through some of the recent drafts starting in 2017, alternating each year to get down to the bottom of it. 
This includes breaking down the context of each pick, who was selected in the first 15 picks after the Bucs' choice, and who the next two players selected at the same position were. It has made for an interesting evaluation of each class, with the upcoming 2023 NFL Draft now under a month away.
In the first part of our six-part mini-series, we break down the Bucs' 2017 NFL Draft class choices.
Bucs 2017 Draft Class

Coming off of a relatively successful (at the time) 9-7 season, the Bucs were in the foreign position of drafting in the back half of the 2017 draft. Ultimately they used their first-round pick on a player who was a consensus top-15 player in that draft in Alabama tight end O.J. Howard.
While he never delivered high-end production in college, Howard was considered a physical freak with traits for days, which led to him being ranked the best tight end in a draft that included fellow talented players David Njoku and Evan Engram. As a matter of fact, at the time, Howard's 9.76 Relative Athletic Score was the 12th best at the tight end position since 1999.
Pick No. 19 – TE OJ Howard

Other players taken within 15 picks of note:
OT Garrett Bolles
TE Evan Engram
S Jabril Peppers
CB Tre'Davious White
TE David Njoku
EDGE TJ Watt
OT Ryan Ramczyk
Next two players at position:
TE Evan Engram
TE David Njoku
Bucs TE O.J. Howard – Photo by: Cliff Welch/PR
Rounding out the first round you see some other players who have had relatively more productive careers than Howard, who battled through several injuries that prevented him from ever fulfilling his massive talent. And at the end of round one, there were two players that have developed into top-five players at their positions.
Edge rusher T.J. Watt and right tackle Ryan Ramczyk have established themselves as perennial Pro Bowlers. While Howard was considered a steal at the time, it would be reasonable to ask if the value of the position required too high of a bar to clear to make the pick "successful."
Notably at this point in their careers, both Engram and Njoku are considered better players at the position. Njoku secured a four-year, $54.75 million contract prior to last year, and Engram was just franchise tagged by the Jaguars to the tune of a one-year, $11.345 million contract.
Meanwhile, Howard is now on his fourth team in the last three years, having signed a one-year deal with the Raiders for just under $1.25 million.
Pick No. 50 – S Justin Evans

Other players taken within 15 picks of note:
LB Zach Cunningham
OC Ethan Pocic
WR JuJu Smith-Schuster
OG Dion Dawkins
OG Taylor Moton
DT Larry Ogunjobi
Next two players at position:
S Obi Melifonwu
S Josh Jones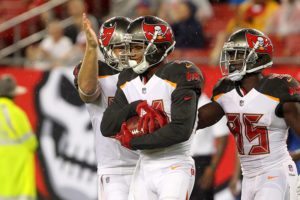 Bucs S Justin Evans – Photo by: Cliff Welch/PR
Justin Evans had a productive start to his career, logging 1,320 snaps in his first two years while recording a Pro Football Focus grade of 67.6 in his sophomore season. However, much like Howard, his ascension was cut down by injury.
Evans would never play another down for the Bucs following 2018. He has since made a comeback of sorts, returning to the league as a role player last year for the Saints and signing with the Eagles this offseason.
Meanwhile, the players taken near Evans have not exactly set themselves apart as stars either. Cunningham received a big second contract from Houston but was cut less than a year into that contract. He was claimed by Tennessee and has been relegated to a backup linebacker role.
Pocic had an underwhelming five years in Seattle before having a breakout campaign with Cleveland this past year. Smith-Schuster has battled some injuries of his own but has developed into a reliable No. 2 receiver. 
The lone exception here is the tackles. Both Dawkins and Moton have turned into quality starting tackles at the NFL level. The Bucs did not have the greatest need for a tackle at the time of the 2017 draft, as left tackle Donovan Smith was entering year three, and the team was very high on him. Right tackle Demar Dotson was also a few years away from declining and still playing at a high level.
The two safeties that were taken after Evans didn't make it out of their first contracts either. Melifonwu only played until 2018 and Green Bay let go of Jones before his third season as well. Since then, he has been kicking around as a journeyman backup similar to Evans.
Pick No. 84 – WR Chris Godwin

Other players taken within 15 picks of note:
RB Kareem Hunt
CB Shaq Griffin
S John Johnson
CB Cam Sutton
WR Kenny Golladay
CB Rasul Douglas
Next two players at position:
WR Kenny Golladay
WR Chad Williams
Bucs WR Chris Godwin – Photo by: USA Today
This one can only be described as a home run. Godwin has developed into a legitimate No. 1 receiver in the NFL.
While Hunt, Griffin, Sutton, Johnson, and Douglas have all seen various degrees of success in the league, none have come close to what Godwin has produced and how much he is valued.
Meanwhile, Golladay got paid by the Giants after showing himself to be an inconsistent deep threat with the Lions and proceeded to alienate not one but two coaching staffs to the point where he couldn't get on the field for one of the worst receiving cores in the NFL last year.
Pick No. 107 – ILB Kendall Beckwith

Other players taken within 15 picks of note:
S Eddie Jackson
OLB Carl Lawson
Next two players at position:
OLB Vince Biegel
ILB Ben Gedeon
Much like Evans, Beckwith was the victim of injuries that cut down a once-promising career. After flashing in his rookie year, a car accident resulted in a broken ankle for the young linebacker that would ultimately end his career. Eddie Jackson was picked shortly after Beckwith and has carved out a solid career with a single elite season. Meanwhile, Lawson has become a very good pass rusher in the NFL.
Not selecting Jackson makes some sense, given Evans was picked earlier in the draft. However, the Bucs opted not to select Lawson while relying on an edge rush that was dependent upon an aging Robert Ayers and an unproven Noah Spence. Lawson would have been a boon to the depth of that position group.
No. 162 – RB Jeremy McNichols

Other players taken within 15 picks of note:
LB Matt Milano
WR Isaiah McKenzie
Next two players at position:
RB TJ Logan
RB Aaron Jones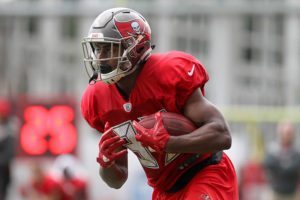 Bucs RB Jeremy McNichols – Photo by: Cliff Welch/PR
Welp. McNichols never made the Bucs' roster, but he was able to bounce around the league through 2021 as a change-of-pace receiving back. Meanwhile, Milano has become one of the best linebackers in the game. The Bucs had Kwon Alexander and Lavonte David as the entrenched starters at the time and had drafted Beckwith earlier in this very draft.
But Milano next to David is a very nice alternate reality in the multiverse to think about. It also would have potentially allowed the Bucs to pass on Devin White the year thereafter. Ce la vie.
But look at that second running back taken after McNichols. I think I have heard of him. He has done a thing or two up in Green Bay, right?
Jason Licht should be applauded for building a very good roster and usually being good at selecting players on day one and two. But if there are two flaws to his draft process they are these: 1) he rarely hits on late-round picks and 2) he has a very poor track record of selecting running backs. Both of those flaws were on display with the selection of McNichols.
No. 223 – NT Stevie Tu'ikolovatu

Other players taken within 15 picks of note:
K Zane Gonzalez
K Harrison Butker
Next two players at position:
DE Isaac Rochell
DT Joey Ivey
This late in the draft, teams consider a pick successful if the player selected makes the team for a year or two. Tu'ikolovatu was not able to accomplish that goal, spending a couple of years on the practice squad. Not too many players picked after the massive nose tackle fared much better.
But two kickers have been able to last in the league. Gonzalez was selected by Cleveland before they cut him partway through the following year. He would catch on with Arizona for 2.5 years before having a career year in Carolina in 2022.
Butker was able to stick with his drafting team (Kansas City), having connected on 88.2% of his field goal tries over the past six seasons, including 23 of 35 from beyond 50 yards while playing in a stadium that can have adverse weather. 
The second part of our six-part mini-series, we break down the Bucs' 2018 NFL Draft class choices on Tuesday.
The post Evaluating Bucs GM Jason Licht's Recent Drafts: 2017 appeared first on Pewter Report.
This content was originally published here.