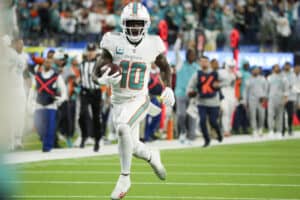 The Worksheet, a fantasy football overview by Rich Hribar, breaking down everything you need to know for the Week 15 Miami Dolphins at Buffalo Bills Saturday night game.

Miami
Rank
@
Buffalo
Rank
7.5
Spread
-7.5
17.5
Implied Total
25
24.3
9
Points/Gm
27.2
4
24
22
Points All./Gm
17
2
59.5
26
Plays/Gm
65.4
8
64.6
25
Opp. Plays/Gm
62.8
14
6.2
2
Off. Yards/Play
6.1
3
5.4
15
Def. Yards/Play
5.1
8
37.21%
29
Rush%
40.59%
19
62.79%
4
Pass%
59.41%
14
38.93%
7
Opp. Rush %
37.94%
5
61.07%
26
Opp. Pass %
62.06%
28
Miami has converted just 16.7% (3-of-18) of their third downs the past two weeks, the worst rate in the NFL. 

The Dolphins had previously converted 43.5% (11th) of their third downs since Tua Tagovailoa came back in Week 7.

Miami has produced a first down or touchdown on 30.3% of their plays on first and second down, the highest rate in the league.

Buffalo has a first down or touchdown on 29.0% of their first and second down plays, third in the league.

Miami is 31st in points allowed per drive on the road (2.68).

The Bills are second in the league in points allowed per drive at home (1.26).

Buffalo is averaging 5.6 yards per play since their Week 7 bye (12th) as opposed to 6.6 yards per play prior (first).

Buffalo has scored a touchdown on 4-of-38 (10.5%) second half drives over that span but has scored a touchdown on 14-of-37 (37.8%) in the first half (fourth).

The Dolphins are 26th in the league in rate of runs to gain five or more yards (33.8%) while ranking second in rate of runs allowed to gain five or more yards (28.9%).

Miami has rushed for a league-low 63.7 yards per game since their Week 11 bye.
Quarterback
Josh Allen: Allen once again showed he can survive a poor matchup and sketchy weather as he managed to end last week as the QB7 (20.6 points). Despite facing a tough Jets defense that held him to 147 passing yards and 5.4 yards per pass attempt, a wintry mix throughout the game, Allen was able to add 47 yards and a touchdown on the ground. 
Allen has now averaged 224.7 passing yards per game over his past seven games with nine passing touchdowns, but he still is averaging 20.3 fantasy points per game over that stretch. Allen has been a QB1 in seven of those games since he still is posting 8.7 rushing points per game, but it has opened the door for the field to run him down at the position after his hot start to the season. Allen has finished higher than the QB7 in two of those seven games.
We are catching a strong matchup here to keep that high floor as a QB1 in play for Allen. Miami is coming off back-to-back trips to the west coast and now has a short week heading to Buffalo. Once again the forecast in Buffalo for Saturday is looking cold with potential snow. We will keep tabs on the weather, but you can already see things implied here in the game total early on. 
When these teams met back in Week 3 in Miami, Allen dropped back to pass a career-high 71 times in one of the weirder game scripts of the season. That volume elevated 6.3 yards per pass attempt. Allen roasted the Dolphins when they blitzed, completing 13-of-16 passes for 165 yards and his two touchdowns, but Miami dialed things back as the game progressed. After blitzing on 35.3% of Allen's dropbacks in the first, they only blitzed him on 21.6% in the second half in which they limited him to a 56.3% completion rate and 5.7 Y/A. 
To continue reading this article
and gain access to The Worksheet and all of Rich's regular content, including positional rankings, and chats, click below to purchase our season-long Fantasy Package.
This content was originally published here.