The Bucs have cast a wide net in their offensive coordinator search, announcing that they have interviewed their eighth candidate on Friday in Los Angeles Rams assistant head coach and tight ends coach Thomas Brown. The search for an offensive coordinator preludes how the team will go about finding an answer at the quarterback position in 2023.
Regardless of how quarterback Kyle Trask is viewed inside the building, he will need competition next season as he is the only signal-caller on the roster. With Tom Brady officially filing his retirement papers yesterday, the Bucs are in a difficult spot.
This move all but rules out Derek Carr and Aaron Rodgers from being in red and pewter, as the Bucs have to account for Brady's full $35 million dead cap charge. This leads to less wiggle room in navigating the cap this season and makes having a stopgap option for a season more probable.
Tom Brady's official retirement means the Bucs will take the full $35 million in dead money from his old contract against this year's salary cap. Makes for much less cap flexibility now, but puts them in better shape for 2024.

— Greg Auman (@gregauman) February 10, 2023
The realistic approach will be going after a veteran bridge quarterback. Someone with the floor of being a starting-caliber player under center, but not someone who would be in the way of Trask if the team decides to give him some run next season.
In SR's Fab 5 yesterday, Jacoby Brissett and Baker Mayfield were mentioned as affordable options the team may consider that fit this description very well. Mayfield has ties to two offensive coordinator candidates the Bucs have interviewed in Brown in his time with the Rams and Georgia offensive coordinator Todd Monken during his second season with the Browns.
Throughout his career, Mayfield has flashed moments of being a franchise quarterback and other times where he has struggled for various reasons. This perception could change if the Bucs hire an offensive coordinator he has worked with, and he could revive his career in Tampa Bay.
Mayfield's Career Started With Promise
Baker Mayfield came into the league with much fanfare after being selected by the Cleveland Browns in 2018. He was coming off a highly successful college career at Oklahoma. He finished top five in the Heisman Trophy voting three times and won the prestigious award in 2017. Coming into Cleveland, he was seen as a catalyst for hope for a Browns franchise in the midst of a complete rebuild and for an organization with little success in the 21st century before his arrival.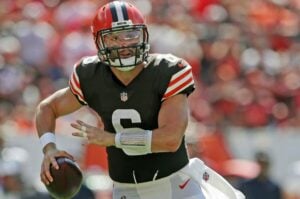 QB Baker Mayfield – Photo by: USA Today
Photo By: USA Today
In fact, when Mayfield was announced as the start for the team ahead of Week 3 of the 2018 season, he became the 30th starting quarterback for the Browns since 1999.
Right away, Mayfield took the reins and had a successful rookie season as he looked to bring the Browns back to relevance. After the team went 0-16 a year prior, Mayfield started from Week 3 on and went 6-7 as a starter as the team rebounded to 7-8-1. It was a campaign in which he threw for 3,725 yards, 27 touchdowns, and 14 interceptions. The 27 touchdown passes set an NFL record at the time but were later passed by Justin Herbert's 31 in 2020 with the Chargers.
The 2019 season would be the year when Mayfield intersected with Monken. As his offensive coordinator, Mayfield would throw 22 touchdowns and 21 interceptions that season. Even during his struggles turning the ball over, Monken praised the former No. 1 overall pick.
"I think he's a tremendous, tremendous football player, competitor, smart, tough, has a rare competitive quality and rare want to be great," Monken said on Dec. 5, 2019. "That's a thing that I think is going to continue to push him and for him to push the rest of our offensive group. There's been some moments where we haven't played as well around him, we've gotten behind a little bit, and he's competitive.
"Over his career, I'll be stunned if he's a guy that turns the ball over a lot. He doesn't have that in him. He does not. He's not careless with the football."
Monken added, "In my mind, we've got the right guy going forward."
Mayfield Has Battled Inconsistency, Injury
Former Cleveland Browns QB Baker Mayfield. – Photo by: USA Today
With a new head coach in Kevin Stefanski replacing Freddie Kitchens and ousting Monken, Mayfield looked to be realizing his potential as a franchise quarterback. In 2020, he led the Browns to the playoffs with an 11-5 record and even got the downtrodden franchise a 48-37 Wild Card win over the Pittsburgh Steelers.
So far, this would be his best season in the NFL, as he had 3,563 yards, 26 touchdowns, and just eight interceptions. Mayfield's 65.5 QBR rating reflected his efficiency.
What went right in 2020 went awry in 2021, Mayfield's final season with the team. Battling a partially torn labrum throughout the year, it was evident that it limited his effectiveness.
All his numbers regressed, and the Browns failed to make the playoffs at 8-9. Criticism of his play spread throughout the season, and it would turn out that Mayfield would not be the answer for Cleveland and the "Dawg Pound."
After the team acquired Deshaun Watson, Mayfield was traded to the Carolina Panthers, participating in their quarterback merry-go-round. He would struggle for six games with them before getting released and latching on with the Rams late in the season.
Three days after being with the team and learning their playbook on the fly, Mayfield would lead a 98-yard game-winning drive against the Las Vegas Raiders on Thursday night football. He played better for the Rams and demonstrated that he is still worthy of belonging in the league.
Mayfield's Career Could Take A Similar Turn To An NFL Legend
This all leads to the main question at hand for the Bucs: Is Baker Mayfield the answer at quarterback in 2023? Mayfield would enter the next season still young enough (28) to turn his career around.
Former Saints QB Draw Brees – Photo by: Cliff Welch/PR
It is worth mentioning another quarterback who was at a similar crossroads five seasons into his career. Before he became a Saints legend and future Hall of Famer, Drew Brees was unlikely to reach this status in 2006 when he signed with the New Orleans Saints.
At the time, Brees was 27 and was coming off a torn labrum, similar to the labrum injury Mayfield played through in 2021. However, his injury was more severe, and his shoulder injury put the future of his career in doubt.
Brees' numbers at that point (30-28 record, 80-53 TD-INT ratio) nearly mirror Mayfield's now (31-38 record, 102-64 TD-INT ratio).
That is not to say by any stretch that Mayfield is the next Brees, but it illustrates the 180-degree turn he can still take to revive his career. After a Week 18 loss to end this season, he mentioned that he still sees himself as a starting quarterback.
For the Bucs, it may be worth taking a flier on Mayfield. Picking at No.19 in the upcoming 2023 NFL Draft, they are on the outside looking in at the top prospects. No one at that spot or further down the board is a long-term answer unless someone like Will Levis or Anthony Richardson falls into their lap, which is unlikely.
Some of the guys in the middle rounds, such as Tennessee's Hendon Hooker and BYU's Jaren Hall, will already be 25 by the time the draft comes around. Mayfield still has relative age on his side, and it was not that long ago that he was seen as one of the NFL's best young quarterbacks.
Mayfield Would Bring Upside, High-Energy To Bucs
With this in mind regarding Baker Mayfield, he could re-energize the Bucs' offense in 2023. Who knows, maybe he will bring his now-iconic headbutt celebration into the mix. He would also be affordable, as he has a current market-value projection of $6.5 million per Spotrac.
Former Cleveland Browns QB Baker Mayfield. – Photo by: USA Today
He is a polarizing player but comes with a high-risk, high-reward upside. He is also a marketable player with a high-energy personality that would fit well in Tampa Bay.
Where would that leave Trask? Does he keep the Bucs competitive or even move the needle? He failed to beat out Blaine Gabbert last season to be Tom Brady's primary backup. He was inactive every game this season but one, playing less than a half in a season-finale that meant nothing for the Bucs' playoff seeding. Trask is an option, just one that is completely unproven.
Regardless of how fans perceive him, Trask will also have to learn a completely new offensive system with whoever is brought in to replace Byron Leftwich. That makes for another campaign in which the Bucs may hope to groom Trask for a stretch in 2023 before giving him a look and evaluating where things stand next offseason.
It is a tricky situation for the team, no matter how they slice it. The NFC South is still for the taking, with each team lacking a top-tier quarterback. Of the teams in the division, the Bucs have arguably the best-supporting cast to put a new quarterback in place.
That new quarterback could be Baker Mayfield, who has a big chip on his shoulders with a lot to prove.
The post Could QB Baker Mayfield Revive His Career With Bucs? appeared first on Pewter Report.
This content was originally published here.