By Retta Race on SwimSwam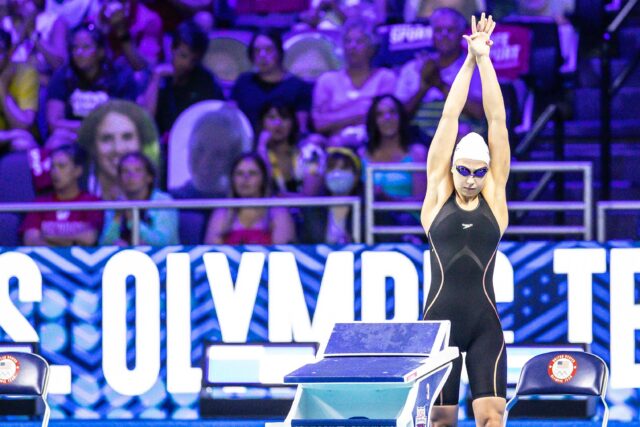 2023 BUCS LONG COURSE CHAMPIONSHIPS
Friday, February 24th – Sunday, February 26th
Ponds Forge International Swimming Center, Sheffield, England
LCM (50m)
The 2023 British Universities & Colleges (BUCS) Long Course Championships concluded from Ponds Forge tonight but not before Catie DeLoof captured another victory.
Representing the University of Loughborough, 26-year-old American DeLoof topped the women's 100m freestyle podium in a time of 54.17. DeLoof opened her race in 25.93 and closed in 28.24 to get to the wall over 2 seconds ahead of the rest of the field.
DeLoof's time here represents the 3rd fastest of the former Michigan Wolverine's career. Her lifetime best rests at the 53.77 she posted at the 2020 Olympic Trials so tonight's effort was less than half a second off that mark.
DeLoof now ranks as the 3rd fastest swimmer in the world this season as well as the 2nd fastest American thus far.
2

Abbigail




Weitzeil

USA
53.65
01/14
3

Shayna




Jack

AUS
54.29
12/12
4

Erika




Brown

USA
54.15
01/14
5

Nagisa




Ikemoto

JPN
54.33
12/03
We reported how Kara Hanlon of Edinburgh scored a new Scottish national record en route to silver in the women's 100m breast. She touched in a time of 1:06.75 to snag silver behind winner Tatiana Belonogoff of Loughborough who grabbed gold in 1:06.53.
Multi-Olympic medalist Duncan Scott indeed made an appearance today, although he opted for just the prelims of the men's 200m fly. The 25-year-old Stirling swimmer clocked a morning swim of 2:01.96 for the top seed.
With Scott absent from the final, it was Loughborough's Andreas Vazaios of Greece who got it done for gold, producing a result of 1:59.96. That represented the sole result of the field under the 2:00 threshold.
The women's edition of the 200m fly saw Loughborough's Laura Stephens lead the pack, putting up a solid swim of 2:10.53. Although far off her personal best of 2:07.04 from 2021, she now ranks 8th in the world on the season.
2

Hiroko




Makino

JPN
2:08.77
02/19
3

Lindsay




LOONEY

USA
2:08.81
01/14
4

Karin




Uchida

JPN
2:09.51
12/03
5

Katie




Grimes

USA
2:09.58
01/13
6

Kina




Hayashi

JPN
2:10.19
12/03
7

Brianna




Throssell

AUS
2:10.40
12/13
8

Charlotte




HOOK

USA
2:10.64
12/03
9

Chiho




Mizuguchi

JPN
2:10.87
12/03
10

Jin Wen




Quah

SGP
2:10.92
12/13
Additional Winners
Alex Cohoon posted the only time of the men's 100m free field under 50 seconds, with the Loughborough swimmer clocking 49.94 for gold.
Birmingham swimmer Oliver Morgan logged a time of 54.92 in the men's 100m back, within range of his best-ever time of 54.70 from last year's British Summer Championships.
Read the full story on SwimSwam: Catie DeLoof Logs Third Fastest 100 Free Of Her Career On Final Night Of BUCS
This content was originally published here.