As the search for a new offensive coordinator continues for the Bucs, they are adding another hat into the ring. ESPN's Jeremy Fowler has reported that the Bucs are going to interview Seattle Seahawks quarterbacks coach Dave Canales.
#Bucs interviewing Seahawks QBs coach Dave Canales for the OC job, per source. Canales had a second interview with the Ravens this week, now set to meet with Tampa

— Jeremy Fowler (@JFowlerESPN) February 8, 2023
At 41 years old, Canales has spent the entirety of his coaching career at the professional level under Pete Carroll and the coaching staff in Seattle. He started out as the strength and conditioning coach for USC in 2009, then went to the Seahawks to become their wide receivers coach from 2010 to 2017. Canales then moved to quarterbacks coach in 2018 and 2019, passing game coordinator in 2020 and 2021, then back to QBs coach in 2022.
Canales Worked With Two Different Starting Quarterbacks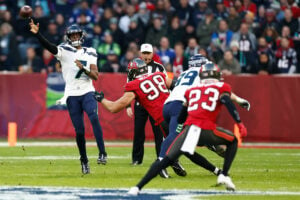 Seahawks QB Geno Smith and Bucs OLB Anthony Nelson – Photo by: USA Today
When he first started working with quarterbacks, Canales spent plenty of time with now Broncos quarterback Russell Wilson. Of the nine Pro Bowl nomination Wilson has received, Canales was either his quarterback coach or passing game coordinator for the last three of them from 2018 through 2020.
What will probably intrigue Bucs fans more, though, is his work with Geno Smith. After failing as the starter of the New York Jets and then moving to backup for multiple teams around the league over the years, Smith revived his career starting for the Seahawks in the 2022 season following the Wilson trade. Smith threw for 4,282 yards, a completion percentage of 69.76 along with 30 touchdowns to just 11 interceptions as Smith made his first Pro Bowl and Seattle made the postseason.
Seattle only averaged five more yards per game than Tampa Bay, but it didn't even come close when it mattered most. The Seahawks averaged 23.9 points per game and Tampa Bay came in much lower at 18.4.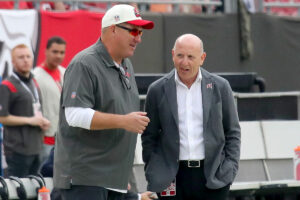 Bucs GM Jason Licht and owner Joel Glazer – Photo by: Cliff Welch/PR
With that said, the Bucs did beat the Seahawks 21-16 in Germany during the middle of the season. It was one of the Bucs most complete games of the year.
Bucs Going For Similar Look With Interviews
If you're seeing a trend with the types of people the Bucs have been interviewing, they've been speaking to coaches that have either worked with young quarterbacks or gotten the best out of passers that need some more growth to their game.
Canales isn't just on the radar of the Bucs, though. He is also having a second interview with the Baltimore Ravens. Meanwhile, the Bucs had their second interview with Dan Pitcher as the whole process continues.
The post Bucs To Interview Seahawks QB Coach Canales For OC appeared first on Pewter Report.
This content was originally published here.