Managing your family's wealth means more to Amuni Financial than simply allocating your assets. It means legacy planning, brokerage & advisory services, retirement accounts, college savings accounts and insurance services. With 40 years of experience, let Amuni Financial help you plan ahead and stay ahead.
Call Amuni Financial at (800) 868-6864 or visit Amuni.com.
Pewter Report's Scott Reynolds answers your questions from the @PewterReport Twitter account each week in the Bucs Monday Mailbag. Submit your question to the Bucs Monday Mailbag each week via Twitter using the hashtag #PRMailbag.  Here are the questions we chose to answer for this week's edition.
QUESTION: It's seeming less and less likely Anthony Richardson makes it to pick 19. If he did, or was in striking distance with a trade up, do you think the Bucs would be interested? Or is the only inexperienced QB they plan to go with in 2023 Kyle Trask?
ANSWER: I don't think the Bucs would move up to draft Anthony Richardson, and after his workout in Indianapolis at the NFL Scouting Combine, I don't think there is any way he falls to Tampa Bay at No. 19. In fact, Richardson is an excellent athlete with great potential and should be gone somewhere in the Top 10.
I could see the Bucs drafting a quarterback this year, especially if the team gets a couple of extra compensatory draft picks in the fifth and seventh rounds, as expected. That doesn't necessarily mean that Tampa Bay would wait until the fifth or seventh rounds to grab one. Tennessee's Hendon Hooker could be an option in the second round if the Bucs feel strongly enough about him.
Tennessee QB Hendon Hooker – Photo by: USA Today
The Bucs had a formal interview with Hooker at the Combine, but he's already 25 years old and won't be fully recovered from his torn ACL until September. That means he'll miss all of the offseason and training camp of his rookie season. For a situation like the one in Tampa Bay, that may not fit Todd Bowles' ideal timeline.
The plan is to prepare Kyle Trask to start this year with competition from an experienced veteran. The team has high hopes that Trask's two years of learning how to be a pro behind Tom Brady, coupled with Dave Canales' new QB-friendly offense, will pay dividends. Tampa Bay spent a second-round pick on Trask for a reason and needs to find out what it has in him before moving on to another young quarterback with a premium pick.
Yet, having Trask on the roster won't preclude the Bucs from drafting another quarterback. But the guess here is that the team would invest a Day 3 pick on another young, developmental QB in case Trask doesn't pan out. Miami drafted Skylar Thompson in the seventh round last year and San Francisco selected Brock Purdy with the final pick in the draft. Both started playoff games for their respective teams as rookies. Some names to keep in mind would be Purdue's Aidan O'Connell, Stanford's Tanner McKee or TCU's Max Duggan on Day 3.
QUESTION:
So what is your prediction for the Bucs' first-round pick now? Anthony Richardson will probably be gone by the time the Bucs pick. I could see Will Levis falling a little bit and would trade up to take him personally. I want the first pick to be a wide receiver or a cornerback.
ANSWER: The Bucs did meet formally with a few receivers and cornerbacks at the NFL Scouting Combine. TCU's Quentin Johnston, USC's Jordan Addison and Ohio State's Jaxon Smith-Njigba were the first-round-caliber receivers Tampa Bay interviewed. The only two cornerbacks the team interviewed formally were Oregon's Christian Gonzalez and South Carolina's Cam Smith.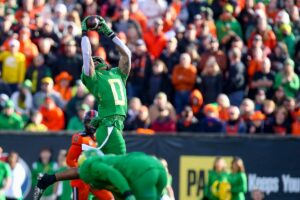 Oregon CB Christian Gonzalez – Photo By: USA Today
I think there is a greater chance the Bucs draft a wide receiver in the first round rather than a cornerback, unless Gonzalez somehow falls that far. The cornerback class is quite good and deep. It's a different story at receiver, where the class is not deep and the talent is very average this year. If the Bucs plan on getting rid of Russell Gage to save a few millions in cap room, then receiver becomes more likely. Tampa Bay won't draft a receiver in the first round if Gage will stay, as the rookie would be No. 4 on the depth chart and a waste of value.
There might be a better chance Tampa Bay might take an offensive tackle, a tight end or a safety – if Alabama's Brian Branch falls to the Bucs at No. 19. Branch plays the slot as a nickel cornerback, which is the role that Todd Bowles tried to play Antoine Winfield Jr. in last year. The plan this year is to move Winfield back to free safety and find someone else to play in the slot.
I don't see the Bucs using a first-round pick on a quarterback, nor do I think Anthony Richardson or Will Levis will be there at No. 19. And Tampa Bay doesn't really have the draft capital to move up into the Top 12 to get either quarterback.
QUESTION: Before free agency starts, what are the biggest needs for our Buccaneers?
ANSWER: The Bucs have 22 unrestricted free agents, which is a lot. The biggest needs in free agency will depend on which players Tampa Bay can re-sign before March 15. The Bucs are expected to let a couple players hit free agency to see what their value is before making a real effort to re-sign them.
Those players may or may not include linebacker Lavonte David, cornerbacks Jamel Dean and Sean Murphy-Bunting, defensive linemen Rakeem Nunez-Roches and Will Gholston and/or safeties Mike Edwards, Keanu Neal and Logan Ryan. There is a chance one or more of those players could be re-signed prior to free agency if they and the team agree to terms.
Bucs DE Will Gholston – Photo by: Cliff Welch/PR
The two biggest problem areas based on sheer numbers are defensive line and the secondary. Gholston, Nunez-Roches, Akiem Hicks, Deadrin Senat and Pat O'Connor are slated for free agency, and that leaves only two experienced players – Vita Vea and Logan Hall – left on the active roster. Dean, Murphy-Bunting, Edwards, Neal and Ryan are the defensive backs that aren't under contract. That leaves Carlton Davis III and Antoine Winfield Jr. as the only starters on the current roster under contract.
In terms of the biggest need – if the Bucs don't re-sign veteran linebacker Lavonte David, his potential departure would leave a gaping hole in the defense. K.J. Britt, Ulysses Gilbert and J.J. Russell haven't shown they can be anything more than reserves or special teamers at this point in time. And the fact that the Bucs are going to release left tackle Donovan Smith due to poor play last year and for salary cap reasons means they could use another starting-caliber tackle. That, too, is a big need.
The plan might be to move Pro Bowl right tackle Tristan Wirfs to left tackle to replace Smith and potentially move Luke Goedeke to right tackle to replace Wirfs. Or the team could draft an offensive tackle to compete with Goedeke at right tackle or replace Smith at left tackle, thus leaving Wirfs at right tackle.
QUESTION:
Is there a trade market for Shaq Mason or Russell Gage? If so, what would they fetch?
ANSWER: The Bucs won't look to trade right guard Shaq Mason. Tampa Bay traded for Mason last year and he played well in his first season in red and pewter. The team is satisfied with his play, and Mason might be even better in Dave Canales' system, which features the run game more than Bruce Arians' offense did. Mason is a better run blocker than he is as a pass protector.
Bucs WR Russell Gage – Photo by: Cliff Welch/PR
As for Russell Gage, the Bucs were disappointed in his first year in Tampa Bay. He made $10 million per year and didn't even average 10 yards per catch. Gage had 51 catches for 426 yards and five touchdowns in 2022. His 8.4-yard average was the lowest of his career. Gage could be a salary cap casualty, as he could save the team over $2 million in cap savings.
After such a down year statistically and with a $10 million price tag, there isn't a single team that would want to trade for Gage. He simply doesn't have any trade value.
QUESTION:
Do you think the Glazers will take action based on the NFLPA survey or do you think they dispute the findings?
ANSWER: Yes, I do think the Glazers will take action. Bucs ownership wasn't happy that the team received such low grades in this year's NFLPA survery. Tampa Bay received very poor grades in team travel (F), food service/nutrition (D) and treatment of families (D+). The Bucs received high grades when it came to strength coaches (A) training staff (A-) and weight room (B).
Only 75% of players say that there is enough room in the cafeteria. The quality of food ranked 25th out of the 32 NFL teams. When it comes to travel, only 75% of players feel like they have enough room to spread out, and the Bucs are one of six teams that make certain players have roommates. Tampa Bay is one of seven teams that don't offer first-class seats to their players.
When it comes to family support, the Bucs ranked 24th in the league. Tampa Bay is one of 14 teams that do not offer a family room, and one of 11 teams that do not offer daycare. The Bucs' post-game gathering area ranked 24th league-wide.
I don't necessarily think that heads will roll over these findings. Rather, I think the Glazers will just try to make some improvements to get the team's grades up in these areas.
The post Bucs Monday Mailbag: Will Tampa Bay Draft A QB? appeared first on Pewter Report.
This content was originally published here.