With the Chiefs being crowned Super Bowl LVII champions on Sunday night with a 38-35 win over the Eagles in Glendale, Arizona, the 2023 offseason is officially on. Draft season is well underway, with Senior Bowl week in the rearview and the NFL Scouting Combine only a couple weeks away. The Bucs may still be looking for a new offensive coordinator, what better time for a new mock draft roundup than now?
Pewter Report previously rounded up some mock drafts at midseason, before college football bowl season and then again after the Bucs were eliminated from the playoffs. Now, with the offseason officially here, let's see what the draft landscape looks for Tampa Bay right now.
What Needs Do The Bucs Have This Offseason?
Bucs QB Tom Brady – Photo by: USA Today
The better question might be "what needs don't the Bucs have?" They have plenty of holes all over their roster as it stands right now, but they're also $55 million over the cap and any cuts they make to get cap compliant will surely create even more spots to fill this offseason.
Before any of those cuts are made, Tampa Bay's big need is at the quarterback position following the Feb. 1 retirement of Tom Brady. But with their draft positioning — 19th overall — the Bucs appear more likely to sign a cheap veteran quarterback in free agency and have that new addition compete with 2021 second-round pick Kyle Trask for the starting job heading into next season.
So, outside of quarterback, where else will Jason Licht and his staff need to focus this offseason? The receiving corps needs filling out, with Julio Jones, Scotty Miller and Breshad Perriman all hitting free agency and not expected to return. In the backfield, there's bound to be a vacancy or two. Giovani Bernard is a free agent, and it's hard to imagine Ke'Shawn Vaughn has a guaranteed role heading into his contract year. The tight end position will need some help as well, with Kyle Rudolph being a one-and-done in Tampa and Cam Brate likely being a salary cap casualty. Some depth along the offensive line is certainly in order as well, especially with Josh Wells' late-season injury (and the fact that he's a free agent).
On the defensive side of the ball, the Bucs need to rebuild their defensive line. Tampa Bay has Vita Vea and Logan Hall under contract, but Akiem Hicks, Will Gholston, Rakeem Nunez-Roches and Deadrin Senat are all free agents. On the outside, Carl Nassib, Anthony Nelson and Genard Avery are all free agents, and Todd Bowles said after the season that the team needs a lot more from its pass rush in 2023. At linebacker, Lavonte David's pending free agency leaves a potential need up in the air for now.
And finally, the secondary is a giant question mark right now. Cornerbacks Jamel Dean and Sean Murphy-Bunting are free agents, as are safeties Mike Edwards, Logan Ryan and Keanu Neal.
Bucs RB Leonard Fournette – Photo by: USA Today
All of those positional needs already exist, and then there are the ones the Bucs may create with some of their cap-cutting moves. Parting ways with Russell Gage would make for an even bigger need at wide receiver, with Mike Evans and Chris Godwin being the only two sure things at the position. Saying goodbye to Leonard Fournette would make running back a bigger need as well, with Rachaad White needing a running mate.
Cutting Brate is another strong possibility, and perhaps the biggest hole Tampa Bay would create is at left tackle if the team cuts ties with Donovan Smith after a bad 2022 season. And just to top things off, Ryan Succop is likely to be released, adding "kicker" to the list of offseason needs.
With the Super Bowl over and draft season truly getting off the ground for everyone, there are plenty of mock drafts floating around right now. Let's take a look at which needs the Bucs are addressing in some of them.
The Draft Network's Brentley Weissman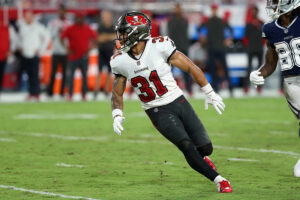 Bucs S Antoine Winfield, Jr. – Photo by: Cliff Welch/PR
Weissman released a mock without trades on Super Bowl Sunday, and he has the Bucs selecting someone who would create an intriguing partnership with Pro Bowl safety Antoine Winfield Jr.
Round 1, Pick 19: Safety, Brian Branch (Alabama)
"Tampa Bay could go a lot of ways here. They have needs on both sides of the line of scrimmage, could use another receiver and even a running back. In the end, the team elects to take Brian Branch, a versatile chess piece in the secondary who can start at either safety position and play nickel for the Buccaneers' defense."
Pro Football Network's James Fragoza
In a three-round mock he released over the weekend, Fragoza has Tampa Bay attempting to fill three big needs, with one of the selections being someone Pewter Report has already written extensively about.
Round 1, Pick 19: Guard, O'Cyrus Torrence (Florida)
"The Bucs could attack the defensive line, but after spending high-value picks in back-to-back drafts, they may want to dip into a different well. O'Cyrus Torrence fills the hole left by Ali Marpet's retirement, establishing a brick wall up front."
Stanford CB Kyu Blu Kelly – Photo by: USA Today
Round 2, Pick 50: Quarterback, Tanner McKee (Stanford)
"Stanford's offense didn't do Tanner McKee any favors, but he routinely exhibited superb ball placement and anticipation. He's a quick processor and can read defenses better than most in the class."
Round 3, Pick 82: Cornerback, Kyu Blu Kelly (Stanford)
"Jamel Dean and Sean Murphy-Bunting are slated to be free agents, and Kyu Blu Kelly can step in and yield reliable play."
247Sports' Brad Crawford
In a post-Super Bowl mock that features the Colts trading up to the No. 1 overall pick, Crawford projects another Florida-based quarterback to the Bucs.
Round 1, Pick 19: Quarterback, Anthony Richardson (Florida)
CBS Sports' Josh Edwards
Bucs ILB Lavonte David – Photo by: Cliff Welch/PR
Edwards released a post-Super Bowl mock draft on Monday morning, and it gives Bucs fans a glimpse into what life might look like if Lavonte David doesn't return and Todd Bowles needs a new starting-caliber linebacker to pair with Devin White.
Round 1, Pick 19: Linebacker, Drew Sanders (Arkansas)
"Tampa Bay begins its restoration in the wake of Tom Brady's retirement. Lavonte David moves on and Drew Sanders enters to play alongside Devin White."
NFL.com's Cynthia Frelund
In her mock released last week, Frelund has Tampa Bay dipping back into the SEC for its Jamel Dean replacement.
Round 1, Pick 19: Cornerback, Emmanuel Forbes (Mississippi State)
"The Mississippi State corner profiles as a guy who will continue to fill out and get stronger. He improved in every metric necessary to find next-level success, racking up 14 interceptions and 17 pass breakups during his college career. Forbes forecasts as a really impactful player in Todd Bowles' system."
Fox Sports' Jason McIntyre
In his post-Super Bowl mock, McIntyre adds a new pass rusher to the Buccaneer defense, someone from a school the team is plenty familiar with.
Round 1, Pick 19: EDGE, Lukas Van Ness (Iowa)
"The Bucs defense is getting a massive overhaul due to age and free agency. Van Ness was only a three-star recruit, and redshirted as a freshman at Iowa before blowing up the last two seasons on the defensive line."
Bleacher Report's NFL Scouting Department
Bucs OLB Joe Tryon-Shoyinka – Photo by: Cliff Welch/PR
Keeping with the theme of the Bucs adding to their pass rush in the first round, Bleacher Report's post-Super Bowl mock has Jason Licht drawing from another school he has often turned to in the draft.
Round 1, Pick 19: EDGE, B.J. Ojulari (LSU)
"With Tom Brady retiring (again), the Tampa Bay Buccaneers must find a new identity. It's likely to start on the defensive side of the ball.
The Buccaneers struggled on offense last season, even with Brady leading the way. Now, they need to find a new quarterback, new coordinator and new scheme to maximize what the roster still features on that side of the ball.
The defense, meanwhile, is much further along with the likes of Vita Vea, Joe Tryon-Shoyinka, Devin White, Carlton Davis and Antoine Winfield Jr. Another explosive piece to the puzzle can be added with the selection of LSU's BJ Ojulari.
"With William Gholston and Carl Nassib are set to be free agents, leaving Tampa Bay razor-thin on the edge," Holder noted. "While fans will certainly want to get Brady's replacement in the first round, the four highest-ranked quarterbacks were off the board at this point. So, the best option is to fill another need.
"Ojulari fits in nicely with Vea and Tryon-Shoyinka to give the Bucs a young defensive line to build around."
The edge-defender provides quickness and a plethora of pass-rush moves to bookend the front and gives head coach Todd Bowles what he prefers: A talented and aggressive defense."
The Draft Wire's Luke Easterling
Easterling's post-Super Bowl mock dropped within an hour of Harrison Butker's game-winning kick in Super Bowl LVII. In it, he stayed consistent with his past mocks and gave the back end of the Bucs' defense a major boost.
Round 1, Pick 19: Safety, Brian Branch (Alabama)
SB Nation's Joseph Acosta
And finally, let's get whacky. Acosta's latest mock projects a trade-up scenario for Tampa Bay, with the Bucs sending the 19th, 50th and 182nd picks to the division rival Falcons for the 8th overall pick. With that newly acquired pick, he has the team selecting its quarterback of the future.
Round 1, Pick 8: Quarterback, CJ Stroud (Ohio State)
"Stroud goes to Tampa Bay at No. 8, where he can operate from the pocket behind what should be an offensive line that's improved from last year, and multiple weapons to throw to. When he's in the pocket, Stroud is a buzzsaw, throwing with touch and accuracy, with good arm strength (though not elite). Against Georgia, he showed the ability to create under pressure and outside of structure, but his ability to do it consistently is the big question."
The post Bucs Mock Draft Roundup 2023: Post-Super Bowl Edition appeared first on Pewter Report.
This content was originally published here.