Managing your family's wealth means more to Amuni Financial than simply allocating your assets. It means legacy planning, brokerage & advisory services, retirement accounts, college savings accounts and insurance services. With 40 years of experience, let Amuni Financial help you plan ahead and stay ahead.
Call Amuni Financial at (800) 868-6864 or visit Amuni.com.
Pewter Report's Scott Reynolds answers your questions from the @PewterReport Twitter account each week in the Bucs Mailbag. Submit your question to the Bucs Mailbag each week via Twitter using the hashtag #PRMailbag.  Here are the questions we chose to answer for this week's edition.
QUESTION:
Who's going to be our starting left tackle next season?
ANSWER: It very well could be Tristan Wirfs. As Bucs general manager Jason Licht said at the press conference for Jamel Dean and Anthony Nelson, the team has talked about eventually moving Wirfs to left tackle since he was drafted in 2020. Some question why the Bucs would want to mess with a good thing when Wirfs has become an All-Pro at right tackle. But what if he can play left tackle at an All-Pro level, too?
Wirfs is an athletic freak, so he certainly has the physical tools and the pure athleticism to make this potential move work. Remember, former Pro Bowler Ali Marpet started off playing right guard, then played center for a season before the move to left guard. Marpet could effortless play either guard position and was dominant on both sides. So it can be done.
But moving Wirfs to left tackle to replace Donovan Smith is not necessarily a done deal. Tampa Bay could still draft an offensive tackle in the first or second round and start that player as a rookie. Smith started every game at left tackle as a rookie in 2015, just as Wirfs started every game as a rookie in 2020. Oklahoma's Anton Harrison, Ohio State's Paris Johnson Jr., Georgia's Broderick Jones and Tennessee's Darnell Wright could all be in the mix at No. 19. Tampa Bay held formal interviews with all four at the NFL Scouting Combine.
QUESTION:
With the Laremy Tunsil deal would that give Tristan Wirfs more motivation to move to LT?
Bucs RT Tristan Wirfs – Photo by: Cliff Welch/PR
ANSWER: Tristan Wirfs doesn't necessarily need any more motivation to move to left tackle or even play great at right tackle. Wirfs is a good soldier, who is going to do what is in the best interest of the team. If that's moving to left tackle, where he started three games during his final season at Iowa in 2019, or staying at right tackle, Wirfs is willing to do whatever he can to help the Bucs.
What the Laremy Tunsil contract extension did for Wirfs, though, is make him more money. Tunsil signed a three-year, $75 million extension with Houston that includes $50 million in guaranteed money. His $25 million average per year now makes Tunsil the highest-paid tackle in the league, beating Trent Williams, who was making just over $23 million per season.
Kansas City's Jawaan Taylor is the league's highest-paid right tackle at $20 million per year. Whether Wirfs stays at right tackle or moves to left tackle, he'll earn the distinction of being the league's highest-paid offensive tackle on his next contract. The Bucs will use their fifth-year option on Wirfs if they don't do a contract extension with him first. Wirfs should command $25 million per year – or more – per season. The longer Tampa Bay waits to extend Wirfs, the higher his price tag will go.
QUESTION:
If you had to take your best three guesses at who the Bucs will take at 19, who would you go with?
ANSWER: Great question, as I've been thinking about this quite a bit. I think the Bucs could go in three different directions at No. 19 if the team decides to stick and pick rather than moving up or down in the first round. The Bucs have two major needs right now at safety and offensive tackle that stand above other positions.
Alabama S Brian Branch – Photo by: USA Today
If Alabama safety Brian Branch is there at No. 19, I could see him being the pick. Remember, Bucs head coach Todd Bowles was serious about drafting Georgia safety Lewis Cine with the team's first pick last year. Tampa Bay traded out of the first round and had the top pick of the second round. It was coming down to Cine or defensive tackle Logan Hall, but the Vikings selected Cine at the end of the first round. By default, the Bucs chose Hall, which greatly filled a need.
But Branch could really help the Bucs, who want to move Antoine Winfield Jr. out of the slot and back into a role as a free safety almost exclusively. Branch, who is the 14th-best player in the draft, according to Pro Football Focus, played 569 snaps in the slot out of his 724 total snaps last year. The Crimson Tide All-American was a one-man-gang against Kansas State in the Sugar Bowl where he had 12 tackles (11 solo), one interception and one sack. Branch is a Winfield-type sure bet, and only missed four tackles in three seasons at Alabama. He'll get a chance to improve his 40-time (4.58) at his pro day.
If the Bucs want to draft a left tackle to replace Donovan Smith, they'll get a chance at No. 19. Of Ohio State's Paris Johnson Jr., Oklahoma's Anton Harrison, Tennessee's Darnell Wright and Georgia's Broderick Jones, at least one of them should be left when Tampa Bay is on the clock. My guess would be Harrison or Jones right now.
Should Tampa Bay want to improve its pass rush, there is a chance the Bucs could go for an impact pass rusher like Kansas State's Felix Anudike-Uzomah or Iowa State's Will McDonald IV. Both are considered to be fringe first- or second-round picks. No. 19 might be a little high for either, but there's a good chance that neither will be around in the second round at No. 50.
QUESTION: The Bucs still need help at D-line, outside linebacker, safety, and nickel cornerback. Can they address all those in the draft? Could we see any additional free agents?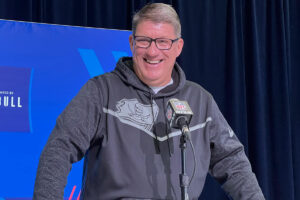 Bucs GM Jason Licht – Photo by: Matt Matera/PR
ANSWER: Yes, and yes – the Bucs can address these needs in the draft and will also sign some more players in free agency. I think the Bucs could add five or six more free agents before the start of the season, and I would suspect that veteran defensive lineman Will Gholston will be among those who will return. Hopefully either Logan Ryan and/or Keanu Neal returns to bolster the safety spot, although Tampa Bay will spend at least one draft pick on each unit.
This is not a good draft for defensive tackles or safeties, but it is a deep draft at cornerback and outside linebacker. Tampa Bay general manager Jason Licht needs a home run draft this year, and it will be interesting to see how many needs the team can fill in April. The Bucs can't reach to fill needs in the draft. They need to draft four or five starters and one or two of them need to be Pro Bowl-caliber, instant impact players.
Even with nine draft picks, I suspect the Bucs will sign more undrafted free agents this year than in recent years. Tampa Bay only has 56 players under contract right now, so the Bucs could wind up with as many as 15-20 undrafted free agents in camp because they are cheap. The Bucs will be in a tight salary cap situation this year, but it should improve greatly in 2024.
QUESTION:
Love the addition of Greg Gaines. Rams fans seem to love him, and he was Vita Vea's old teammate at Washington. So I wonder if they signed him because of that connection with Vea?
Bucs DT Greg Gaines – Photo by: USA Today
ANSWER: The Bucs didn't sign Greg Gaines just because he's best buddies with Vita Vea, but it certainly helps. The 26-year-old Gaines is a young, ascending defensive tackle who brings a high motor and toughness to Tampa Bay's defensive line. The Bucs signed him because he's a good player first and foremost.
But the fact that he is tight with Vea from their playing days together with the Huskies certainly helps. They already have a bond dating back to college. Reuniting the two should give Vea a boost in 2023 – not that he needs it after coming off a year in which he had a career-high 6.5 sacks to lead the Bucs.
Carlton Davis III and Jamel Dean were teammates at Auburn and knew each other since high school. They have a similar rapport and play very well opposite each other. Tampa Bay hopes the same will happen with Vea and Gaines, who will likely replace Rakeem Nunez-Roches as a top reserve defensive tackle. If Gaines has a great camp, he could beat out Logan Hall, the former second-round pick who is projected to start next to Vea this season.
QUESTION:
I only need one more thing to consider this free agency a success. Any chance we give Mike Evans an extension?
Bucs WR Mike Evans – Photo by: Cliff Welch/PR
ANSWER: The Bucs are considering giving Mike Evans a contract extension, although it may not happen this year. Evans, who turns 30 in August, is entering the last year of his contract, and the organization wants to make him a Buccaneer for life. Remember, he was general manager Jason Licht's first-ever draft pick in 2014. So nobody understands Evans' importance to the franchise more than Licht.
There could be a chance that the Bucs extend Evans' contract this season to help create some salary cap room. Evans has an incredibly high cap value of $23,698,500 this year, and that makes him a likely candidate for a restructure rather than an extension. But an extension would have to come with a pay raise, as Evans is nearing the end of his deal.
Chris Godwin is making an average of $20 million per year, while Evans' average from his last deal was $16.5 million per season. Evans has been the more productive receiver with nine straight 1,000-yard seasons, so his next pay day would likely push him north of $20 million per year. While another 1,000-yard season seems like a foregone conclusion as long as Evans can stay healthy, the Bucs might want to see how he plays at age 30 – and in a new offense – to accurately gauge his worth.
QUESTION:
Since it's free agency time, who are the Top 3 best free agent signings and who are the top biggest letdowns in Bucs history?
Bucs QB Tom Brady – Photo by: USA Today
ANSWER: Great question. I think the Top 3 free agent signings by the Bucs are quarterback Tom Brady, middle linebacker Hardy Nickerson and outside linebacker Shaq Barrett. Defensive end Simeon Rice would be a close fourth. Brady is a no-brainer. General manager Jason Licht and former head coach Bruce Arians landing Brady in free agency was a coup in 2020. He helped lead the Bucs to a Super Bowl championship and two division titles.
Signing Nickerson in 1993 and then re-signing him in 1996 was huge for the franchise. The Bucs' turnaround began thanks to the toughness and leadership he brought from Pittsburgh. Nickerson made the Pro Bowl five times in Tampa Bay and was a two-time All-Pro. He helped pave the way for young Bucs like John Lynch, Warren Sapp and Derrick Brooks.
Barrett makes the list because he is the best value signing in team history. Licht lured Barrett to Tampa Bay on a one-year, $4 million prove-it deal and he produced 19.5 sacks in 2019, which led the league and set a new team record. Like Brady, Barrett helped the Bucs win Super Bowl LV with a terrific run in the playoffs.
As for the free agent busts, the first name that comes to mind is Alvin Harper in 1995. He was a total bust in addition to being a turd as a human being. After that, running back Derrick Ward and cornerback Eric Wright were awful signings – a total waste of money. And I can't forget left tackle Anthony Collins, who was a huge disappointment. Throw in defensive tackle Chris Baker, who was also bad for the locker room and didn't try hard, and the list of free agents busts is longer than the Bucs want it to be.
The post Bucs Mailbag: New Position, New Contract For Tristan Wirfs? appeared first on Pewter Report.
This content was originally published here.