The Bucs have extended a qualifying offer to guard Nick Leverett, the team announced Friday afternoon.
The Bucs have extended a tender offer to G Nick Leverett, an exclusive rights free agent. Leverett started 10 games at left guard last season. https://t.co/dFknUoB8BT

— Scott Smith (@ScottSBucs) March 10, 2023
With less than three years of service time, Leverett was an exclusive rights free agent, meaning that even though he was not under contract with the Bucs for 2023, he was unable to negotiate with any other team. The Bucs merely had to make a qualifying offer of the league minimum salary for his service time of $940k, which they have done.
Leverett Stepped Up Admirably For Bucs In 2022
Originally an undrafted free agent out of Rice in 2020, Leverett landed on the Bucs' practice squad in his first year. Leverett then appeared in two games in 2021, logging 69 offensive snaps and 38 on special teams.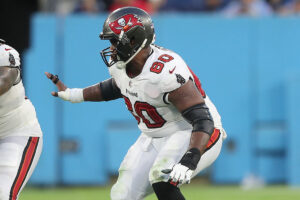 Bucs OL Nick Leverett – Photo by: Cliff Welch/PR
Leverett was a late addition to the Bucs' final 53-man roster this past season, getting added when outside linebacker Cam Gill wound up on injured reserve. Leverett lost out on a position battle with rookie Luke Goedeke for the starting left guard spot.
However, Leverett was finally given his chance in Week 7 when he split snaps with Goedeke after the rookie struggled during the first half of the season. Following that game, Leverett was inserted into the starting lineup permanently and would not relinquish the job. He started 10 games for the Bucs in 2022.
Leverett relied on a technically sound playing style as well as a mean streak to put together a solid season, posting a Pro Football Focus grade of 64.0 and providing the team with an elevated level of play from what they got from Goedeke in the front half of the season.
From here, Leverett signing the offer is essentially a formality. As it stands, the offensive lineman will be a restricted free agent next offseason. This will allow him to negotiate with other teams, but Tampa Bay can place a designation on him to allow them to match the offer he receives from another team or receive draft compensation should they refuse to match the contract.
Leverett will enter the 2023 season once again competing for a starting spot. As of now, he will be vying for the starting left guard role, battling Goedeke and potentially Robert Hainsey, who filled in at center for the injured Ryan Jensen during the 2022 season.
The post Bucs Extend Offer To Nick Leverett appeared first on Pewter Report.
This content was originally published here.