Following their early playoff exit, the Bucs have fired offensive coordinator Byron Leftwich after four seasons on Thursday, Pewter Report has learned.
Pewter Report broke the news that Tampa Bay would be parting ways with Leftwich following Tampa Bay's 31-14 loss to Dallas in the Wild Card round of the playoffs on Monday night and now that move has been finalized. Other assistants are expected to be fired as well, including several on the offensive coaching staff, as Pewter Report has previously reported.
With the offense being such a significant part of the Bucs' struggles in 2022, this move always felt like it had to happen eventually. Tampa Bay's offense, which averaged 28.6 points per game in 2019, 30.8 in 2020 and 30.1 in 2021, dipped down to 18.4 points per game in 2022, ranking 25th in the league. And in the team's season-ending loss to the Cowboys in the Wild Card Round, the Bucs managed to score just 14 points.
A Lot Of Blame Falls On Leftwich For Bucs' Poor 2022 Season
Bucs OC Byron Leftwich and QB Tom Brady – Photo by: Cliff Welch/PR
Leftwich's play-calling has been called out by many, including Pewter Report's Scott Reynolds, as a reason for the decline of the Bucs' offense in 2022. Execution surely wasn't there on a consistent basis this season, but it has certainly felt like the unit was put in tough positions all too frequently.
Tampa Bay's struggles on first down led to inefficiency on third downs this season. Back in Week 6, the Bucs faced a depleted Steelers defense with a secondary full of backups, yet No. 1 receiver Mike Evans had just four targets on the day. In the same game, struggling rookie left guard Luke Goedeke was left in one-on-one situations with perennial Pro Bowler Cameron Heyward far too often. As a result, Tampa Bay lost, 20-18. And that was only the beginning.
Leftwich came under fire during the week after the Steelers game, and he had few answers to give in response. Instead, he spoke in generalities about needing to put players in better positions to succeed and coach them better. Days later, the Bucs put up just three points in a 21-3 loss to the previously one-win Panthers.
The organization gave the green light to head coach Todd Bowles to fire Leftwich after the Thursday night loss to Baltimore, but presumably Bowles didn't see a capable replacement for Leftwich on the staff. So he directed that changes continued to be made to the direction of the offense, including being more balanced and less predictable down the stretch. Neither happened and it didn't get much better the rest of the way.
The Bucs, even with Tom Brady as their quarterback, struggled to move the ball and score points. On several occasions, it was Brady leading hurry-up drives at the end of games to save otherwise-terrible offensive performances. Tampa Bay regularly scored 30 points over its previous three seasons, yet it did so just twice this season.
Leftwich's Firing Comes As A Big Deal After Years Of Continuity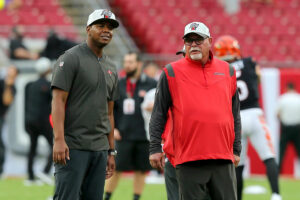 Bucs head coach Bruce Arians and OC Byron Leftwich – Photo by: Cliff Welch/PR
The Bucs have been in a unique situation with their coaching staff ever since Bruce Arians arrived in 2019. The Super Bowl-winning head coach has often spoke about the way everything worked out perfectly for him to come out of retirement and coach the Bucs. His whole staff being available was a big reason he returned to the sideline.
And since 2019, Tampa Bay's coaches have remained together. Arians was upset after the Bucs' Super Bowl season in 2020 that his coordinators — Bowles and Leftwich — didn't get interviews for head coaching vacancies around the league. Leftwich went on to interview for the Jaguars' head coaching job after the 2021 season and appeared close to getting it, but he ultimately didn't and remained in Tampa.
Arians' decision to retire and hand the team down to Bowles this offseason was always his plan, and everyone remained on board despite the change at the top. Now, Bowles has turned away from that continuity in search of answers for the team's struggling offense. Of course, Bowles never had much of a chance to make any coaching changes in the offseason due to the timing of his promotion from defensive coordinator to head coach. He was promoted on March 30, well after the start of free agency. Any coaches he might've wanted were likely already committed to other jobs by that point.
Plus, Leftwich was coming off of a string of successful seasons with Tampa Bay, so parting ways with him at that point in the offseason without a viable plan to replace him was always unlikely. That doesn't mean Bowles couldn't have fired Leftwich after the offense's poor start in 2022. Pewter Report previously reported that the Bucs' brass OK'd a plan to fire Leftwich during the season, but Bowles chose to trust his defense and Brady to get the job done, likely due to the lack of surefire candidates on the existing staff.
Stepping Back And Evaluating Leftwich's Tenure With Bucs
It's harsh to consider Leftwich's tenure in Tampa Bay as a failure on the whole, to be fair. In 2019, he oversaw Jameis Winston's 5,000-yard, 33-touchdown season — albeit with more than 30 turnovers mixed in. Then, he began working closely with Tom Brady when he arrived in 2020. As the Buccaneers offense figured things out down the stretch that season, Arians gave a ton of credit to Leftwich's ability to work with Brady and find what worked best for the offense. Of course, the Bucs went on to win the Super Bowl.
In 2021, the Tampa Bay offense was once again stellar, with Leftwich and Brady at the forefront of it. The Bucs won a franchise-record 13 regular season games and came a play away from potentially hosting the NFC Championship Game. After the season, Leftwich almost went elsewhere to become a head coach, but that didn't come to fruition. And after a crazy offseason, Leftwich has seen his offense crumble in 2022.
Bucs OC Byron Leftwich – Photo by: USA Today
A major part of Leftwich's firing comes from his inability to adapt to the turnover on the Bucs offense. Pro Bowl left guard Ali Marpet retired this offseason, as did future Hall of Fame tight end Rob Gronkowski. Wide receiver Antonio Brown — as much trouble as he was — also contributed a great deal to the offense last year before peace-signing his way out of town and out of football. Pro Bowl center Ryan Jensen then went down during training camp with a severe knee injury and didn't return until Monday night's playoff game.
Simply put, the personnel Leftwich had to work with this season hasn't been the same star-studded group he had the last two years. But then, an argument can be made that a great offensive coordinator should be able to adapt and overcome, creatively scheming ways to get the best out of the personnel he does have. It's fair to say the best offensive coordinators don't need Pro Bowl and Hall of Fame talent all over the field to be successful, either.
But personnel and execution aside, Leftwich's philosophy just didn't work for Tampa Bay in 2022. His downfall was ultimately a result of his almost-dogmatic belief in trying to repeatedly run the ball on first down despite poor efficiency in doing so. And when that belief backfired on the Bucs, the adjustments either weren't there or the wrong buttons were pushed.
So ends Leftwich's tenure in Tampa. After four years, someone else will be calling the plays in 2023. What the offense will look like, of course, remains to be seen. Brady's future is uncertain, and the Bucs are well over the salary cap. Figuring out the answer at quarterback and determining Leftwich's replacement may very well go hand in hand, especially if Brady wants to return for another year.
The post BREAKING: Bucs Fire OC Leftwich  appeared first on Pewter Report.
This content was originally published here.