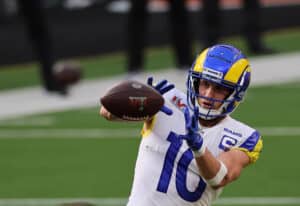 The Worksheet, a fantasy football overview by Rich Hribar, breaking down everything you need to know for the Week 1 Buffalo Bills at Los Angeles Rams Thursday Night Football game.

Buffalo
Rank
@
LA Rams
Rank
-2.5
Spread
2.5
27
Implied Total
24.5
29.8
3
Points/Gm
27
6
18.3
1
Points All./Gm
21.3
9
66.3
6
Plays/Gm
63.2
15
60.4
3
Opp. Plays/Gm
64.5
23
5.9
7
Off. Yards/Play
5.9
5
4.8
1
Def. Yards/Play
5.2
6
40.79%
18
Rush%
40.69%
19
59.21%
15
Pass%
59.31%
14
42.60%
19
Opp. Rush %
38.04%
5
57.40%
14
Opp. Pass %
61.96%
28
Home teams are 16-3 in the Thursday night season openers (11-4-4 ATS).

The Bills (77) and the Rams (70) ranked first and third in total possessions to reach the red zone in 2021.

Buffalo trailed for just 25.9% of their offensive snaps in 2021, the lowest rate in the league.

The Rams went from 26th in scoring rate per drive in 2020 (36%) all the way up to third a year ago at 49.4%. This was their highest scoring rate per drive as a franchise in a season outside of 2018.

Buffalo allowed opponents to score on 29.4% of their drives in 2021, the lowest rate in the league.

Buffalo allowed a league-low 26.3 yards per drive in 2021.

The Rams were first in the NFL in expected points added via passing in 2021 (237.3) but ranked 31st in EPA via rushing (-56.3).

The Rams had just three runs that gained 20 or more yards in 2021, ahead of only the Falcons (two).

The Bills had 18 runs of 20 or more yards, second in the NFL to the Colts (19). Josh Allen provided nine of those gains, which was tied for third in the league.

The Bills (38.7%) and Rams (48.6%) ranked first and second in the league in the lowest rate of touchdowns allowed in 2021 to come via passing. 

41 of the 51 (80.4%) offensive touchdowns scored by the Rams came via passing. It was the highest rate of team passing touchdown dependency since the 2019 Jaguars. 

Los Angeles threw the ball 58.4% of the time inside of the 10 (second) and 65.9% of the time inside of the five (first).
Quarterback
Josh Allen: Allen will look to defend his fantasy crown as the QB1 for the third straight season opening on the road against a Rams defense that ranked third in the league in passing points allowed per game last season (12.2).
Allen had just six games against top-10 defenses in passing points allowed per game in 2021, with a wild amount of variance in games. He closed as a top-7 scorer in three of them while finishing as the QB19 or lower in the other three. 
The Rams themselves allowed just five top-12 scoring weeks on the season in 2021, with just two passers finishing higher than QB9 in a game against them last season. Those two passers were Aaron Rodgers and Tom Brady, who did not have the rushing upside that Allen also holds as a trump card.
The biggest area of concern is keeping Allen clean. When Allen was pressured in 2021, he posted a 45.4% completion rate and averaged 5.9 yards per pass attempt. While kept clean, Allen notched a 71.0% completion rate and 7.2 Y/A. The Rams were 11th in the NFL with a pressure on 31.8% of opponent dropbacks and ranked third in the NFL in sacks (50). 
Despite the matchup itself being a tougher draw on paper, Allen himself has been a good bet to make in games with high point totals. In 12 career games with a 50-point or higher game total, Allen has averaged 27.7 fantasy points with nine games posting more than 25 points. His fewest number of points in those games is 15.1. 
You did not select Allen where you did to have trepidation on playing him versus anyone, but this is a matchup that has a lot more variance involved with him pacing the position in scoring in Week 1 or conceding to the field.
Matthew Stafford: The status of Stafford's elbow injury has been a big picture concern this summer. While we will be keeping tabs on that injury and the maintenance throughout the season, by all indications Stafford is ready to play without limitations to start the season.
He walks right into a tough draw on paper from a year ago as the Bills led the NFL in just about every pass defense metric. Stafford only had three games (all versus the 49ers) against defenses that ranked in the top-10 in passing points allowed last year while drawing another three games against teams that ranked in the top-10 in pass defense EPA, scoring 20 or more fantasy points in all three of those weeks.
Of course, Buffalo also faced one of the lightest opposing quarterback slates for any team last season. They faced just two quarterbacks all of last season (including the postseason) that finished higher than QB18 in fantasy scoring last season. Those were Patrick Mahomes (who scored 18.9 and 40.0 fantasy points) and Tom Brady (30.1 points).  
The Bills will also have some moving pieces on the back end as Tre'Davious White is on the PUP list and will miss this game as well as the next three. That leaves rookies Kaiir Elam and Christian Benford to draw snaps in their debuts alongside Dane Jackson and slot man Taron Johnson since the Rams live in 3WR sets. With Levi Wallace leaving in free agency, Jackson will be elevated again as a starter outside without White active. Jackson logged 390 coverage snaps a year ago, allowing the most yards per reception (12.4) on the team while allowing the highest rating (81.9) among the returning starters for Buffalo at cornerback.
With the high game total and those moving pieces for the Bills at cornerback potentially creating a strong environment for scoring, Stafford still carries upside as a QB1 option right out of the box.
Running Back
Bills RBs: After selecting James Cook in the second round, the Bills have opened things back to a potential committee approach entering 2022 after Devin Singletary led the way to close last season.
Singletary accounted for 127-of-150 backfield touches for the Bills over their final seven games of the season. He scored 19.7 fantasy points per game over that stretch with a low-scoring week as RB14. 
While that type of usage has been compromised with the addition of Cook, Singletary was the running back on the field for every snap Josh Allen took in the preseason. The downside is that was just six total snaps.
His role is vital since Singletary has seven career RB1 scoring weeks, averaging 19.8 touches in those games with just one racking up fewer than 17 touches. As part of a committee, Singletary has not found the same success, averaging 8.2 points per game in 27 career games with fewer than 15 touches, with just eight weeks as an RB2 or better in those games.
The Rams were also solid versus the run a year ago, allowing just 3.72 yards per carry to opposing running backs (fourth) and 11.7 rushing points per game to the position (11th). They were 17th in receiving points allowed per game to the position (9.8), but that area is the most questionable part of Singletary's game. If he is going to concede work to Cook right away, that's the area to pinpoint. 
Out of 68 qualifying running backs, Singletary ranked 67th in receiving grade per Pro Football Focus and Singletary was 67th (0.61) in yards per route run among running backs.
With Cook potentially needing to ramp up more playing time, Singletary carries some FLEX appeal due to the game environment, but he also carries a low floor due to the matchup and potentially sharing more work than expected.
Cook is nothing more than a Hail Mary FLEX out of the box for game attachment since we are flying blind on his actual role with the first team.
Rams RBs: Both Darrell Henderson and Cam Akers have dealt with soft tissue injuries to close out the preseason, but both were able to close out the preseason practicing in full. 
As is the case with the Buffalo backfield, this is a situation where if one back has the field to himself then we have something. All of the touches in a good offense matter. But anytime there has been a semblance of a committee, it has been tougher to chase production. 
We just have not had a strong sample of Akers and Henderson being healthy at the same time in their early careers. 
So far in two seasons with both on the roster, the pair has appeared together in just seven total games including the postseason. In those seven games, Akers has out-touched Henderson 72-to-47, but Henderson has run more pass routes (40-35), which is what I believe the Rams want to continue doing with the pair. 
We saw the same thing in the Super Bowl last year. After Henderson had missed the previous five weeks, he came back and appeared on just 22 snaps in the Super Bowl, but 15 of those were pass routes, with seven of those coming on third downs compared to just three third down pass routes for Akers. 
Henderson did not command a lot of targets in 2021, but the Rams did utilize him as a pass catcher near the goal line as he led all running backs with five end zone targets on the season despite all of his missed time.
If the Rams are going to use Akers in an early down capacity with Henderson as a pass catcher on long down and distances, it places both in a tough area to trust. In their six regular season games played together, just once has one of them finished as a top-24 scorer that given week. 
On top of that, the Rams were 31st in the league in EPA rushing in 2021 while losing two starting offensive linemen this offseason. 
The Bills were sixth in the league in points allowed per game to opposing backfields in 2021 since they forced so many opponents out of the run due to game scripts a year ago. On a per-touch basis, they were 19th in points allowed per touch (0.88) to the position. 
Anticipating an early season timeshare here, Akers is a touchdown-dependent FLEX play with Henderson a longer shot option for Monday Night DFS until we see more clarity from their usage.
Wide Receiver
Cooper Kupp: Coming off the greatest season for a wideout since 1995 Jerry Rice, Kupp never had fewer than five receptions in any game last season while finishing lower than WR20 just once all season. 
The Bills have a solid nickel back in Taron Johnson, who ranked eighth in the league in yards allowed per coverage snap in the slot in 2021. Buffalo also allowed the fewest points per game to opposing slot receivers (8.1). Buffalo also only allowed six touchdowns to opposing wide receivers during the regular season in 2021, the fewest in the league.
That said, their opponents also carried a lot of input while it has been nearly a full calendar year since we saw a team slow Kupp down, whether he was playing alongside Van Jefferson, Odell Beckham, or Robert Woods. 
With the Rams having question marks at wide receiver beyond Allen Robinson while the running game could still struggle, Kupp should walk right back into a high target count right away to kick off the season as front-end WR1.
Stefon Diggs: After posting 7.9 catches for 95.9 yards per game in his first season in Buffalo, Diggs made averaging 6.1 receptions for 72.1 yards per game feel somewhat disappointing to gamers despite still ranking 10th and 12th at his position in those categories. 
Diggs also managed a career-high 10 touchdowns while averaging 9.7 targets per game (seventh).  He led all NFL players in end zone targets (22).
With the Bills moving on from veterans Emmanuel Sanders and Cole Beasley this offseason, Diggs is in line for another strong workload this season. 
For as good as the cornerback room is for the Rams with Jalen Ramsey at the front paired with David Long and bringing Troy Hill back, they were susceptible to opposing WR1 play in 2021. The Rams ranked 23rd in points allowed per game (16.3) to opposing WR1 options, allowing nine different WR1 options to finish as the WR13 or better that week. 
While the potential of a shadow matchup from Ramsey always can limit the upside of ceiling game from any wideout, Diggs is still a WR1 play to kick off the year.
Gabriel Davis: Davis is a locked-in full-time player entering the season for the first time in his career.
Davis has only played two-thirds of the offensive snaps in 14 career games to open his career but has a 50-816-11 line in those games on 87 targets while averaging 14.2 fantasy points per game. 
Carrying weekly scoring upside attached to Josh Allen, among the top 100 wideouts here in ADP, Davis ranks 17th in career rate of downfield targets (30.4%) while ranking first in the rate of targets in the red zone (21.6%), rate of targets inside of the 10 (10.4%), and rate of targets in the end zone (18.4%).
The Rams were not a team that surrendered many splash plays in 2021. Opposing quarterbacks completed just 37.8% of their downfield targets (eighth lowest) against the Rams while allowing just 10 touchdowns to opposing wideouts (tied for second) in the league. 
The Rams could galaxy brain things here and use Ramsey to erase Davis while throwing the sink at Stefon Diggs, but Davis still falls into high variance, touchdown-dependent option on the WR2/WR3 line.
Allen Robinson: The 2021 season was an outright disaster for Robinson, but he will look to start off with better days immediately for the Rams.
39.8% of Robinson's routes last season were strictly slants and curls. Just 20.9% of the routes run by Rams pass catchers in 2021 came on those curl and slant routes that Robinson was boxed into.
No team had more air yards in 2021 on digs, posts, go, and deep crossing routes than the Rams (1,184) while no team had fewer air yards on those routes than the Bears (361) last season. Robinson had just 10 total targets on those routes in 2021. 
Buffalo was the worst perimeter matchup for wide receivers in 2021, allowing a league-low 6.4 yards per target to wideouts outside, but as mentioned, there is some shakeup here in the cornerback room as Robinson will largely work against three corners with limited NFL experience, two of which are rookies. 
With Micah Hyde and Jordan Poyer still representing arguably the league's best safety duo, big yardage and splash plays should still be tough to come by on downfield targets. Buffalo allowed a paltry 24.7% completion rate on throws over 15 yards downfield in 2021. That will leave Robinson more reception and touchdown dependent here as a WR2/WR3 option.
Isaiah McKenzie: By all accounts, McKenzie has locked up starting slot duties for the Bills this summer. After an injury scare last week in practice, McKenzie was a full participant in practice on Sunday. That is a positive indicator that he will be ready to go for Thursday, but keep an eye on things early in the week.
McKenzie has had just 35, 40, and 29 touches over the past three seasons with the Bills, but anytime that they have put more on his plate, he has produced. In the two games that McKenzie has played even just 50% of the offensive snaps with Buffalo, he has had games of 6-65-2 (on nine targets) and 11-125-1 (on 12 targets). 
The Rams were ninth in points allowed per game to opposing slot wide receivers (10.4), allowing just five touchdowns from the slot (third) all of last season. While this is not a spot to get overly cute with McKenzie in season-long lineups as we look to see him solidify a role, he does make for a cheaper attachment to the Buffalo offense in Showdown DFS. 
Rams WRs: With Van Jefferson still expected to be sidelined for the season opener, Tutu Atwell, Ben Skowronek, and Brandon Powell will be in line to contribute in his place.
Atwell has run ahead of Skowronek this preseason, but his size (5-foot-9 and 165 pounds) limits him from being an outside presence compared to Skowronek (6-foot-3 and 224 pounds).
Neither one of these players is more than a Showdown dart throw, but the Rams used 11 personnel on a league-high 83.3% of plays a year ago. 
Tight End
Dawson Knox: After 52 catches for 676 yards and five touchdowns through two NFL seasons, Knox caught 49 passes for 587 yards and nine scores in 2021 on 71 targets. 
Knox fully utilized attachment to the Buffalo offense in year three, scoring 32.9% of his fantasy points from touchdowns alone, the highest touchdown dependency in the league.
Including the postseason, Knox has now found the end zone at least once in 13 of his past 26 games played. Knox had just two TE1 scoring weeks in his eight games without a touchdown, averaging 6.5 points in those games. 
While ranking 20th in targets per game (4.7), and 48th in target rate per route (14.0%) puts Knox in the touchdown-or-bust department without a larger role this season, Knox ranks seventh in career rate of deep targets (20.6%), fourth in red zone target rate (20%), first in target rate inside of the 10 (11.5%), and second in end zone target rate (12.1%) at his position.  
The Rams allowed 6.9 yards per target (14th) and a 3.2% touchdown rate (fifth) to opposing tight ends in 2021.
Tyler Higbee: Higbee has not been able to recapture the ceiling he showcased to end the 2019 season, but he turned in a respectable TE13 scoring season per game in 2021 while ranking 11th in expected points per game. 
Higbee was solid to close the year, with at least five receptions in the final four games of the year. He also received nine end zone targets last year, which was tied for fifth among tight ends. That gives Higbee some scoring appeal in a high game total as a TE2 while the state of the Rams' wide receiver room gives him the potential for a reception floor as well. 
Buffalo allowed a 58.7% catch rate to opposing tight ends in 2021 (second), while ranking 13th in yards allowed per target (6.8) and sixth in touchdown rate (3.6%) allowed to the position.

BUF at LAR | NO at ATL | CLE at CAR | SF at CHI | PIT at CIN | PHI at DET | IND at HOU | NE at MIA | BAL at NYJ | JAX at WAS | KC at ARI | GB at MIN | NYG at TEN | LVR at LAC | TB at DAL | DEN at SEA
This content was originally published here.