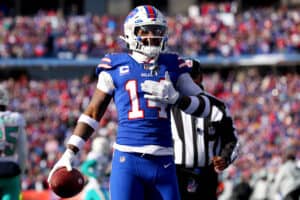 The Worksheet, a fantasy football overview by Rich Hribar, breaking down everything you need to know for the Divisional Round Cincinnati Bengals at Buffalo Bills Sunday afternoon game.

Cincinnati
Rank
@
Buffalo
Rank
4.5
Spread
-4.5
21.75
Implied Total
26.25
26
7
Points/Gm
28.8
2
19.9
6
Points All./Gm
18.6
3
65.1
11
Plays/Gm
65.2
9
62.5
10
Opp. Plays/Gm
62.7
11
5.4
15
Off. Yards/Play
6.1
2
5.4
17
Def. Yards/Play
5
5
37.67%
29
Rush%
41.12%
18
62.33%
4
Pass%
58.88%
15
41.62%
12
Opp. Rush %
38.18%
3
58.38%
21
Opp. Pass %
61.82%
30
Against the Spread
Bills: 8-8-1
Bengals: 12-5
Bills ATS at Home: 3-5
Bengals ATS on Road: 7-2
Bills ATS as Favorite: 8-8-1
Bengals ATS as Underdog: 2-0
Game Overview
We are getting another opportunity for these teams to match up after their Week 17 showdown on Monday Night Football was rightfully called off due to the unfortunate injury to Damar Hamlin in the first quarter. 
Both of these teams were not at their best in the Wild Card Round. The Bills allowed a league-low 3.3 yards per play and 231 total yards last week but had to sweat out a 34-31 win due to the number of mistakes they made during the game. The Bills had another three turnovers and have now turned the ball over on 15.5% of their possessions. Only the Colts (16.9%) have a higher rate.
The Bengals were once again in another hell game with the Ravens, who have played them well all season. Cincinnati came out ahead 24-17 on the strength of a 98-yard fumble return touchdown by Sam Hubbard in the fourth quarter that was a seismic shift in the outcome and the last points scored in the game. 
This will be the first official game played between Josh Allen and Joe Burrow and we are linking up two of the league's best offenses. The Bills are fourth in the NFL in points per drive (2.48) while the Bengals are seventh (2.33). Only the Chiefs have scored on a higher percentage of their drives than the Bills (44.4%) while the Bengals are eighth (41.3%). 
Defensively, both are also top-10 units with the Bills allowing 1.64 points per drive (fifth) and the Bengals 1.76 points per drive (ninth).
The Bengals have really made their mark this season by making sure that they score touchdowns when they do score points and preventing touchdowns when they allow scoring plays. Cincinnati has scored a touchdown on 67.1% of their scoring plays this season (fourth in the league) while allowing a touchdown on just 47.8% of the scoring plays they've allowed (third).
To continue reading this article
and gain access to The Worksheet and all of Rich's regular content, including positional rankings, and chats, click below to purchase our season-long Fantasy Package.
This content was originally published here.