While there's been a lot of different moves with assistant coaches on the Bucs staff this season, one coach that will be staying to everyone's delight is offensive consultant Tom Moore. Peter Schrager of Good Morning Football and Fox Sports reported that the 84-year old Moore signed a contract extension with the Bucs. It's the 47th NFL contract of his career.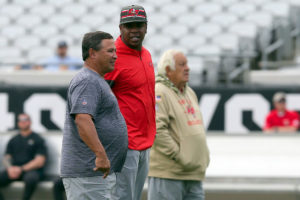 Bucs OC Byron Leftwich and QBs coach Clyde Christensen – Photo by: Cliff Welch/PR
Moore began his coaching career in 1961 as a graduate assistant for the University of Iowa. His first NFL coaching opportunity came in 1977 when he was the wide receivers coach for the Pittsburgh Steelers under Chuck Knoll. Along the way Moore has also been a coach or consultant for the Lions, Saints, Colts, Jets, Titans, Cardinals and Bucs.
Moore's longest tenure in the NFL was with the Colts from 1998 to 2009 where he was their offensive coordinator. He worked along side head coach Tony Dungy and quarterback Peyton Manning to help the Colts win Super Bowl XLI.
Link Between Moore And Bruce Arians
The big reason why Moore got to Tampa in the first place was when Bruce Arians brought him in after taking over as head coach in 2019. The pair first worked together in Indianapolis from 1998 to 2000 with Arians as the quarterback's coach.
When Arians was given the job as the head coach for the Arizona Cardinals, Moore was also brought in as an assistant head coach and offensive consultant. Moore stayed with Arians during his whole tenure from 2013 to 2017 and even sat out in 2018 when Arians was broadcasting.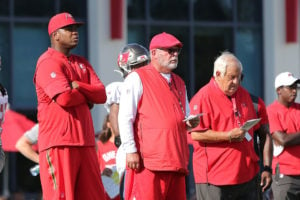 Bucs OC Byron Leftwich, head coach Bruce Arians and Tom Moore – Photo by: Cliff Welch/PR
The duo reunited once again in 2019 when Arians arrived in Tampa as the Bucs won Super Bowl LV a year later after the 2020 season. Moore maintained his role with the Bucs in 2022 after Arians retired to make way for Todd Bowles to become the next head coach.
You may have seen coach Moore around more often as he's become a common fixture on nose tackle Vita Vea's instagram. The two have struck up a relationship and Vea will often document a video of him asking Moore questions or requesting that he gives a shoutout to Bucs fans.
The Bucs still have a long ways to go with filling out the rest of the coaching staff. On top of needing to find an offensive coordinator and a starting quarterback, they'll also be looking for coaches at quarterback, running back, wide receiver and many more roles.
Tampa Bay might getting closer to finding their next offensive play caller. They completed a second interview with Bengals quarterbacks coach Dan Pitcher and are also set to interview Seahawks quarterback coach Dave Canales this week. Once they find their coordinator, they might want to bring in their own guys as assistants.
The post Assistant Coach Moore Gets Contract Extension From Bucs appeared first on Pewter Report.
This content was originally published here.